No extra virus protection needed for National Day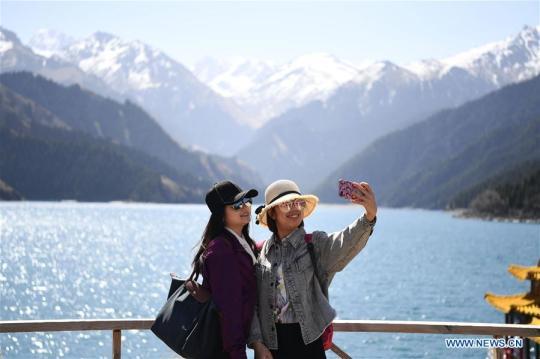 Tourists take selfies at Tianchi scenic area in Northwest China's Xinjiang Uygur autonomous region, April 25, 2020. (Photo: Xinhua)
Domestic travelers planning for the upcoming National Day holiday do not need to take additional precautions against the novel coronavirus as the disease is no longer circulating in society, according to a top public health expert.
Currently, on the Chinese mainland, the virus can only be found in hospitalized patients, people placed under medical observation and laboratories, Wu Zunyou, chief epidemiologist at the Chinese Center for Disease Control and Prevention, said during an interview with China Central Television this week.
"It is now impossible to contract the virus in social environments, including schools and workplaces," he said. "There is no need to place extra restrictions on tourists out of concern for COVID-19 infections, though necessary travel safety precautions should be taken due to large gatherings."
This year's National Day Holiday will run from Oct 1 to 8, one day longer than usual as it overlaps with the Mid-Autumn Festival, which also falls on Oct 1 this year.
Tourist agencies thwarted by pentup demand have predicted a surge in domestic travel during the eight-day holiday as the outbreak has been suppressed in the country and most travel restrictions have been lifted.
According to the National Health Commission, the Chinese mainland has reported no new locally transmitted infections for 25 consecutive days as of Wednesday.
The commission detected seven new imported cases on Wednesday. Wu said during the interview that all incoming travelers will be managed in a closed-off loop and will not pose risks to local residents.
"After months of exploring and practicing strategies aimed at fending off imported infections, China has improved its knowledge in this aspect and is capable of gradually increasing incoming flights," he said.
In Nanjing, Jiangsu province, a 19-year-old man who returned from the United States on Aug 11 and tested negative for the virus twice during the 14-day mandatory quarantine period, was recently confirmed as an asymptomatic carrier of the virus, according to the local government.
He first tested positive on Sept 1 during a follow-up test targeting overseas travelers entering Jiangsu. Tests conducted on Monday and Tuesday also returned positive, the government said. He showed no symptoms, and the CT scan imaging was normal, it added.
His parents and other close contacts tested negative for the virus. Samples collected from his rooms and places he visited before also tested negative.