After outcry, primary school textbooks to be changed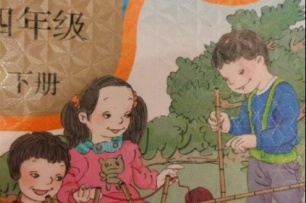 The Ministry of Education has asked the publisher of primary school math textbooks to revise the illustrations after they caused a public outcry for being unappealing and inappropriate.
The ministry has asked the People's Education Press to carry out prompt rectification measures and make sure the new textbooks are available for students before the start of the autumn semester in September, it said in a news release on Saturday.
The ministry will also conduct a comprehensive evaluation of all textbooks used by primary and secondary schools nationwide, especially regarding their content and illustrations.
The evaluation aims to make sure they adhere to the right political direction and values, promote traditional Chinese culture and conform to public aesthetic taste, and any problems found will be corrected immediately, the release said.
The ministry welcomes suggestions on the textbooks sent by the public, which will be taken into account in a timely manner, it added.
The illustrations of math textbooks have been trending on different social media platforms since Thursday. Many netizens found them offensive and lacking the quality of innocence because the students in the illustration have what they called strange facial expressions.
Some were wearing strange clothes, had tattoos, and made inappropriate gestures.
The People's Education Press has expressed deep apologies and remorse for the illustrations.
The publisher said it has set up a work group to redo the illustrations, which will be completed before Sept 1, it said in a statement on Saturday. It will select new design teams to work on the illustration in math textbooks used by primary school students, taking suggestions from the public, especially teachers, students and parents, the statement said.
It will conduct an evaluation on other textbooks it publishes and make corrections immediately for any possible problems, the statement added.
The People's Education Press, founded in 1950, is under the administration of the Ministry of Education and focuses on compiling and publishing textbooks for primary and secondary school students, according to its website.
The textbooks, which are used by primary school students, were vetted by authorities in 2012 and 2013 and are the work of the Wu Yong Design Studio.
In a recent guideline, the ministry and four other departments said they would establish an accountability mechanism for textbooks used by students at all levels to ensure quality and standardization, and this will cover the compiling, vetting, printing, distribution and selection of textbooks.