Netizens debate school discipline after Guangdong clarifies teachers rights
Global Times
1555892810000
Chinese netizens are debating the rights of teachers to chastise children after education authorities in South China's Guangdong Province released draft regulations that allow teachers to punish students who violate class discipline.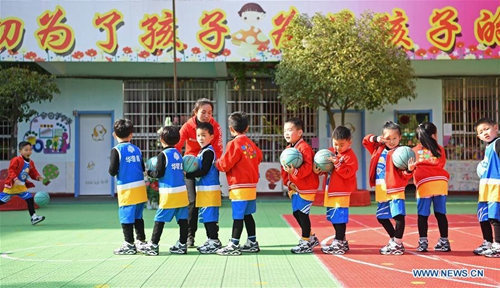 Children line up during their outdoor exercises at Gao'an Liangshiju Kindergarten in Yichun, East China's Jiangxi Province, on March 12. (Photo: Xinhua)
The Department of Justice, Guangdong, released a draft on school safety on April 12, stipulating that schools and teachers can criticize and punish students when they do not listen to the teacher carefully, do not do their homework on time or violate class discipline.
It is the first time that a province has sought to clarify what rights teachers have to discipline their students in the country, The Beijing News reported Sunday.
Although the draft clearly bans physical punishment, it fails to define the degree, extent and measure of the punishment teachers can use, causing worries among netizens over possible physical abuse.
Many netizens shared their experiences of being physically punished by their teachers at primary and middle schools, saying that these terrible memories had left lasting trauma.
However, a female teacher surnamed Zhang who works in a primary school in Shenzhen, Guangdong province, told the Global Times on Sunday that teachers now do not dare to physically punish students otherwise they might be fired if they are reported to the school or local educational authorities.
"At most they have to stand in the corner for a while or copy out texts. I also ask parents to help if these measures fail to work," Zhang said, noting that she would be afraid of parents coming to the school to cause her trouble if she physically punished the students.
Many netizens said that punishment is acceptable and necessary for students as long as it is not out of proportion.
"Children don't have a developed level of self control. Particularly with the popularity of the internet, it is more and more difficult to ask students to pay full attention in class. Punishment to a certain degree can build up teacher's prestige and establish a better teacher-student relationship," Qin An, head of Institute of China Cyberspace Strategy, told the Global Times on Sunday.
Guangdong provincial justice department told The Beijing News on Thursday that they had not approved the draft yet and would continue to solicit opinions.
Cover image: CGTN