Largest quarantine site in city fully operational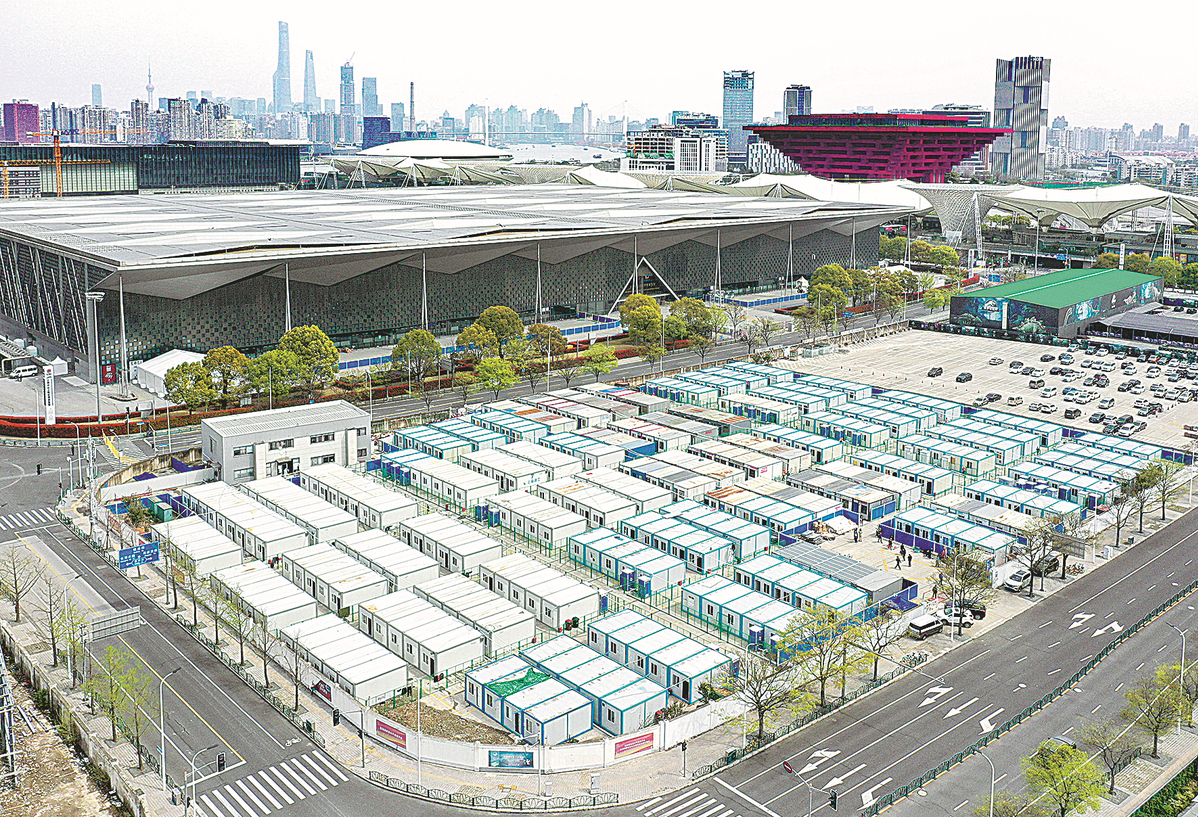 The largest central quarantine site for COVID-19 cases with mild symptoms and asymptomatic infections in Shanghai was put into full operation on Tuesday night.
The quarantine site built within the Shanghai World Expo Exhibition and Convention Center in Pudong district provides a total of 7,000 beds, including 400 for children.
Swift operation of such quarantine sites will help the city ensure that all patients receive treatment and care at designated venues as early as possible, said Chen Erzhen, commander-in-chief of the quarantine site that started partial operation on Friday.
"The number of COVID-19 infections in the city has been at a high level lately, and it's a key part of the epidemic fight to treat or quarantine the affected people as soon as possible," said Chen, who is also head of the expert team treating infections at the city's central quarantine sites and vice-president of Shanghai Ruijin Hospital.
There are 10 such quarantine sites in the city so far, and doctors and nurses dispatched there have included some who aided Wuhan, Hubei province, during its epidemic peak in 2020.
Chen said that confirmed patients are treated according to their symptoms under the national guidelines, and traditional Chinese medicine is used for all patients aged between 7 and 86 at the site, he said.
Five hospitals have dispatched nearly 900 medical workers-including from the disciplines of respiration, emergency medicine, infectious diseases, nursing and psychology-to the quarantine site.
Nurses work non-stop in six-hour shifts, taking patients' temperature and blood pressure, distributing medicines and answering their daily needs.
The quarantine site is divided into grids with a nurse station in the middle of each grid. Rescue beds, rescue medicines, electrocardiograph monitors and automated external defibrillators are equipped at each station.
Zheng Junhua, deputy head of the quarantine site and Party secretary of Renji Hospital, which dispatched a 246-member medical team, said that protocols for referring and rescuing critical patients were established if any patient's conditions suddenly turned severe.
He reassured patients not to worry about getting infected from each other while staying in the site.
Workers regularly sterilize the site in a standardized manner, and they also conduct environmental testing. Disinfection was considered in every aspect, including ventilation, water use and fire prevention when renovating the site, he said.
There are also 18 large high-power air purifiers within a 2,500-bed quarantine section at Renji Hospital.
A daily broadcast program produced by Shanghai Radio Station debuted at the quarantine site on Tuesday. It is aired for an hour at noon and in the evening, and patients have said that it has provided not only news but also a sense of relaxation.
On Wednesday, 25 patients whose birthdays fall from March 25 to 31 received cakes and birthday cards.
Some patients have volunteered to help the busy nurses distribute food and supplies, maintain order and contact maintenance if they detect equipment failure.
"The nurses are running here and there all the time without a moment to take a break. I wanted to lend a helping hand," an asymptomatic patient surnamed Bei was quoted as saying by local news website Eastday.