New roads providing jobs in rural areas
China.org.cn
1659064930000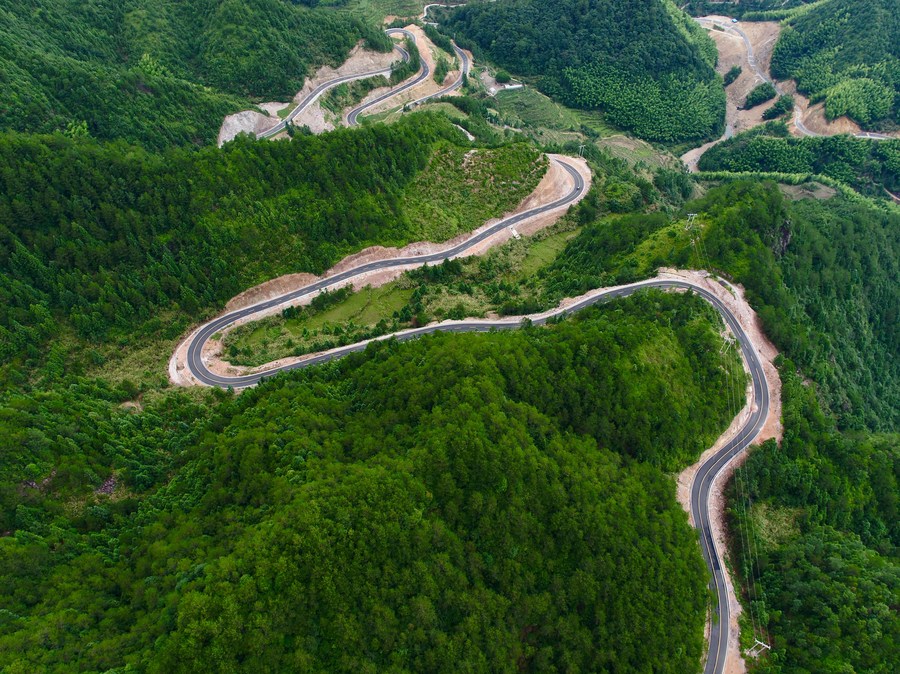 Aerial photo taken on Aug. 3, 2020 shows mountain roads leading to Chenqiao Village, Zhouning County, southeast China's Fujian Province. [Photo/Xinhua]
A major bottleneck to rural vitalization in China for many years has been poor roads and transport links in rural areas impeding the free flow of trade and commerce, but major efforts and achievements have been made over the past decade to remedy these issues and bring prosperity to the countryside.
The latest figures cited by the Ministry of Transport show that the nation channeled 743.3 billion yuan ($110 billion) collected from vehicle purchase taxation into transport infrastructure projects in rural areas in the past 10 years, among which 506.8 billion yuan was used in areas registered as impoverished.
By the end of 2021, roads in the countryside stretched 4.47 million kilometers, increasing by over 900,000 km from 3.56 million a decade earlier.
To better manage and maintain these newly built or renovated rural roads, administrative officers have been assigned to take charge of certain stretches of the roads in villages, towns and counties.
The ministry said there were some 641,000 officers who'd taken up these positions as of June.
"We all know that sound and smooth transport lays the foundation for prosperous industries, which has helped rural areas to shake off poverty in the past and is helping them to vitalize," said Gu Zhifeng, deputy director of the ministry's road department, at a news conference on Thursday.
All administrative villages in the country have access to public buses, and there has been speedy development in access to express deliveries in rural areas, Gu said.
Investing in rural roads has also been beneficial to employment stability in rural areas.
According to the ministry's figures, there were 2,458 work-relief programs based around road construction projects in the countryside in the first six months of this year, creating 49,000 jobs for people in rural areas. These programs have attracted investment totaling 5.16 billion yuan, among which 470 million yuan was to pay salaries.
Gu Zhifeng, the deputy director, said the ministry will continue to launch work-relief programs to secure high-quality road construction in rural areas and help boost rural employment.
"These programs will cover areas such as transport infrastructure construction and road maintenance to help more rural laborers find jobs near where they live," he said.
According to the ministry, it aims to increase the length of newly built rural roads to 150,000 km by 2022 as well as renovate 8,000 dilapidated rural bridges.