Jilin residents discover War-era mortar shells under homes
People's Daily app
1534445227000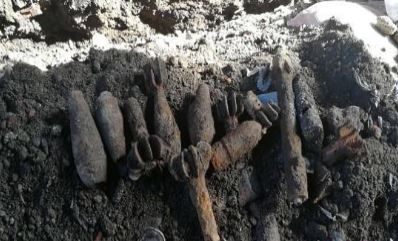 (Photo: China News Service)
A Jilin resident discovered 12 vintage mortar shells while digging a trench at his home last week, China News Service reported. And recently another mortar was found some 300 meters away. Bomb specialists cautioned residents about the possibility of other mortar shells in the area.
On the same day the dozen mortars were discovered, a resident at Jilin's boat camp found mortar shells and fragments while digging in his yard.
Wang Huijun, with the Linjiang Police Department, said authorities evacuated residents from the area before a team of bomb experts arrived.
"The shells were expired. We identified five tails, six empty barrels, and one complete artillery mortar," said a member of the bomb squad. Residents were reassured they were in no danger since vital parts of the mortars were already damaged rendered harmless.
Judging from the decay, experts also said the mortars appeared to be left over from the War of Resistance against the Japanese Aggression.
Last week's discovery was not far from a similar area inspected in July, where a mortar shell was unearthed at a construction site.
So far, all of the mortars have been the same make and model. Luckily, no casualties or injuries have been reported.