Policy implementation vital to help Chinese private firms out of difficulties: analysts
Global Times
1541474573000
Down-to-earth implementation of the central government's support policies for China's private companies and theoretical innovation are essential to help the firms out of their current difficulties, analysts said on Monday.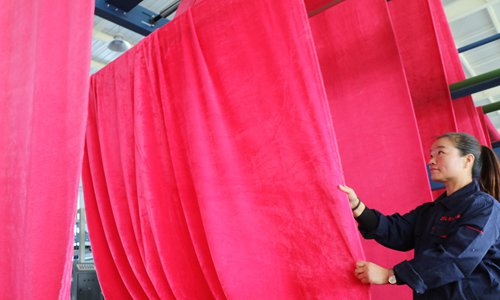 An employee of a Jiangsu-based private company sorts out carpets that will be exported to Russia on Monday. (Photo: VCG)
The comments came after a Thursday top-level symposium on private enterprises.
The symposium, presided over by Xi Jinping, general secretary of the Communist Party of China Central Committee, aimed to tackle the difficulties faced by private Chinese firms, which are dealing with both internal and external challenges.
Some private companies in China have been struggling amid the nation's structural adjustment and the campaign to tackle rising debt. There has also been heated debate about the future prospects for the domestic private sector.
In a speech at the symposium, Xi said that some private companies have recently encountered difficulties and problems in their development in terms of financing and transformation, citing the combined result of multiple issues including external and internal challenges as well as objective and subjective factors.
"These difficulties are obstacles in the process of development, issues in the course of progress and pains as the country grows, and they will surely be solved through development," Xi said.
An executive at a transportation company in Nanning, South China's Guangxi Zhuang Autonomous Region, who wished to remain anonymous, told the Global Times on Monday that he hoped his company could enjoy the same loan rates that State-owned companies get.
"Although State policies call for equal treatment among private and State-owned companies, in reality, loans are [often] given to State-owned companies instead," he said.
Wan Zhe, chief economist with the International Cooperation Center under the National Development and Reform Commission, called for a more market-oriented approach and fewer administrative measures amid the country's deleveraging and environmental campaigns.
"A market-oriented approach provides the market with certainty and gives participants time to react, while administrative measures tend to disrupt company operation and harm market confidence," Wan told the Global Times.
The domestic private sector now contributes more than 60 percent of China's GDP growth and brings in over half of China's fiscal revenue, as well as providing over 80 percent of the nation's jobs, according to the Xinhua News Agency.
Theoretical innovation
The symposium on Thursday also sparked debate among Chinese intellectuals. Hua Sheng, a commentator and an independent non-executive director of Chinese real estate firm Vanke, wrote a piece calling for more precise identification of ownership as a measure to push reform and opening-up into a new stage.
Hua called for more consideration about the relationship between State-owned and private companies so that the principle of neutrality can be properly observed.
Many State-owned firms have private investors nowadays and they should be seen as private firms, as this would help them to compete in a market-oriented fashion on the world stage, said Hua.
Wan told the Global Times that the principle of competitive neutrality and ownership neutrality will ensure fair treatment for market participants and can help build a more market-oriented economy.
Despite the difficulties, there are some silver linings for the private sector. For example, investment growth in the sector increased at a higher rate in the first three quarters of 2018, breaking the trend toward a slowdown in investment growth, according to a report of the Xinhua News Agency on October 31.