Beijing suspends sports events, postpones return of classes as bar-related cluster infection involves 228
Global Times
1655129261000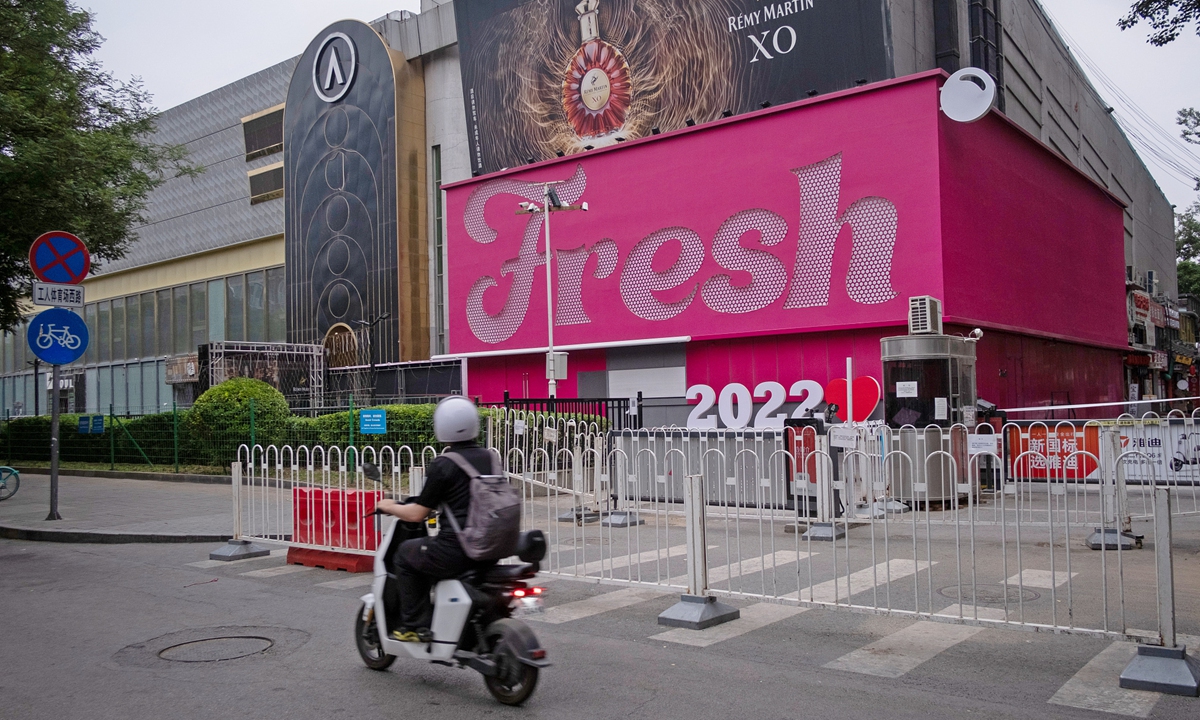 Beijing on Monday canceled all sports events and postponed the resumption of face-to-face classes in schools due to the bar-related cluster infections which have involved 228 COVID-19 cases in 100 communities as of Monday.
The decision was made because the resurgence occurred in a sudden manner, spread extensively and involved people of different groups, according to the municipal sports authority.
Elementary and middle schools were scheduled to resume classes on Monday, but the move was postponed due to the resurgence.
Only graduating students returned to campuses on Monday. They are expected to take the entrance examinations for senior middle schools on June 24-26.
As restaurants resumed dine-in services and other businesses also received customers, Beijing started to examine all underground venues, including bars. Places failing to meet epidemic control requirements and ventilation standards are not allowed to open, according to the city's epidemic control press briefing on Monday.
The new outbreaks, centering on a bar named Heaven Supermarket in the Sanlitun area of Chaoyang district, are still in a development phase and have spread to 100 communities in 14 districts plus the Yizhuang economic and technological development zone.
Vice Premier Sun Chunlan on Monday inspected the bars involved in the outbreak, urging a quick response in epidemic controls and epidemiological probes, speed up personnel transfers and quarantine to curb the resurgence as soon as possible, creating a good environment for the opening of the 20th National Congress of the Communist Party of China.
To identify hidden infections and rule out transmission risks, municipal authorities required timely probes and quarantines for close contacts. Residents are asked to scan QR codes and present negative nucleic acid testing results valid within 72 hours before entering residential compounds, office buildings, shops and other public places.
Xu Hejian, the spokesperson of the municipal government, stressed that people should scan the QR code rather than only show a green health code. Scanning site QR codes will facilitate the epidemiological investigations and close contacts tracing.
For a group of visitors, every person must scan the code. Some venues allowed one person in a group to scan, leaving loopholes in epidemic control.
Chaoyang district, where the bar is located and most of the new cases were detected, will test its residents for three consecutive days starting from Monday.
Personnel connected to farmers' markets, cold chains, catering and delivery industries are tested daily, pharmacies are tested every two days, and others are tested every three days.
Forty-five new infections were reported from midnight to 3pm on Monday, of which one was found at the community level.
At Sunday's press briefing, government officials said the bar-related outbreaks were "more difficult to contain" than the 2020 Xinfadi market outbreak or the previous round, which caused citywide restaurants to suspend dine-in services for more than one month.
Health experts noted a trend in that people are showing milder or no symptoms, probably because of the features of the Omicron variant and high vaccination rate, making detection of infections increasingly difficult.
A Beijing-based immunologist said that a quick response is still the key to deal with the epidemic.
The accuracy of nucleic acid testing is also important to the overall epidemic control, the expert said, worrying that large amounts of samples and mixed tests affected the testing results and led to a false "zero at the community level" from the previous round.
After the bar-related outbreak, districts including Chaoyang and Dongchen have ordered the closure of entertainment venues, including bars, KTVs and internet cafes.