Research charts road map for China's carbon neutrality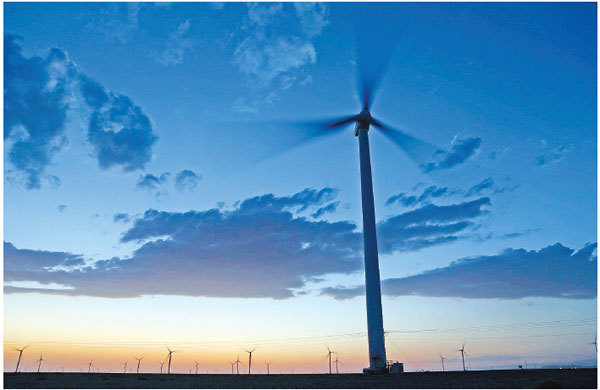 New research suggests China's ambitious target of achieving carbon neutrality by 2060 is in line with the vision of the Paris Agreement to maintain a global temperature rise below 1.5 C.
The research charts pathways for China's long-term low-carbon development in different scenarios, including limiting the global temperature increase to below 2 and 1.5 C, which are set in the landmark Paris Agreement on climate change.
For China to achieve the target of net-zero CO2 emissions and a significant reduction of other greenhouse gas emissions by 2050 – which is necessary to limit the temperature rise to 1.5 C – China will need to significantly raise the share of non-fossil fuels in its total energy mix to 86.1 percent from 15.9 percent in 2020, while reducing the proportion of coal to 5.4 percent from 57.4 percent.
In comparison, under the 2 C scenario – the Paris Agreement's alternative (and less ambitious) goal which means global carbon neutrality should be realized by around 2070, China will need to boost the share of non-fossil fuels to 73.2 percent.
The research, titled China's Long-Term Low-Carbon Development Strategy and Pathway, proposed policies and strategies for China's low-carbon development in the next few decades.
It was conducted by some of China's top experts in environment and energy and was released by the Institute of Climate Change and Sustainable Development of Tsinghua University on Monday.
He Jiankun, deputy director of China's National Expert Committee on Climate Change, said realizing a target of net zero CO2 emissions and reduction of all greenhouse gas emissions by 90 percent by 2050 will pave the way for China to achieve carbon neutrality by 2060, which was proposed by President Xi Jinping at the general debate of the 75th session of the UN General Assembly last month.
China also aims to have CO2 emissions peak before 2030, according to Xi.
A report compiled based on the research's findings said China is promoting an "ecological civilization" and shifting from quantitative growth to high-quality development, with the vision of building a "beautiful China" by the middle of the century.
While the COVID-19 pandemic is a global public health emergency, climate change is a more profound ecological crisis for the planet, it said.
Actions to tackle climate change will not impede China's economic development, said Xie Zhenhua, China's former special representative on climate change. Instead, it will lift the quality of economic growth, foster new industries and markets, improve people's livelihoods and health, said Xie.
CO2 emissions per unit of GDP have dropped 48 percent by 2019 in China from the level of 2005, Xie said. During the period, China's GDP expanded more than four times, and 95 percent of the impoverished population has escaped poverty, he said.
Xie said China faces an uphill battle in its transition to low-carbon development. Its manufacturing industry is still at the mid-to-low end of global value chain, and is a high energy consumer.
The country's CO2 intensity per energy unit is about 30 percent higher than the world average, and energy consumption per unit of GDP is 1.5 times the world average, he said.
According to the report, 121 countries have brought forward the vision of achieving carbon neutrality by 2050, including developed nations such as the UK and New Zealand, as well as developing countries such as Chile and many island countries.