E-commerce facilitates Sino-Russian trade
GUANGZHOU, April 19 (Xinhua) -- Yu Hang's business Ruston Express delivered a record high of 338 million packages between China and Russia, 10 times more than in 2013 when he founded the company.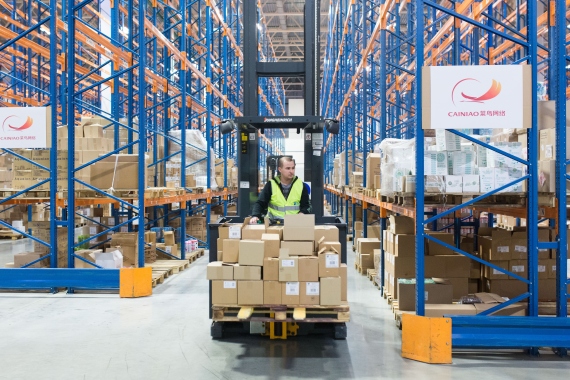 A worker delivers goods at the overseas warehouse of China's Yingkou Port (Hui) Ltd. in Moscow, Russia, Nov. 9, 2016. (Photo: Xinhua)
The record delivery was also seen with the cross-border e-commerce trade between the two countries, which reached $3.7 billion in the first three quarters last year, up 23 percent year on year.
"The sound development of trade relations, especially the booming cross-border e-commerce, has directly boosted business for logistics companies like us," Yu said during the 125th Canton Fair that opened Monday in Guangzhou.
China has been Russia's largest trading partner for eight consecutive years, with bilateral trade exceeding 100 billion dollars last year, with the number expected to double by 2025.
"In the prosperous bilateral trade, cross-border e-commerce has been a new spotlight favored by an increasing number of consumers," said Sun Zhuangzhi, head of the Russia, East European and Central Asian Studies of Chinese Academy of Social Sciences.
The fast development of cross-border e-commerce has greatly expanded bilateral trade, showing the geographic advantages of the cooperation between the two countries, he added.
In recent years, China's e-commerce companies have been promoting localization in Russia, with China's leading e-commerce platforms such as Alibaba and Jingdong establishing branches in the country.
They also cooperate with local payment enterprises so that more Russian's can buy on Chinese e-commerce platforms with their own payment tools.
"Such kinds of local transaction make bilateral trade more convenient and efficient," Yu said.
According to Yandex, Russia's largest payment system, orders from Russian customers on Chinese e-commerce platforms increased 105 percent from Dec. 1 to 27 last year.
Meanwhile, Russian Customs is promoting electronic clearance to better serve Chinese export enterprises.
Electronic clearance is expected to account for at least 95 percent of the total in 2020, said the Russian Embassy in China.
"The two sides should continue to improve the service quality and efficiency, fully taking advantage of the Internet of things and cross-border logistics to make e-commerce develop in a more stable say," Sun Zhuangzhi said.