Fight against organized crime reflects Xi's governance thought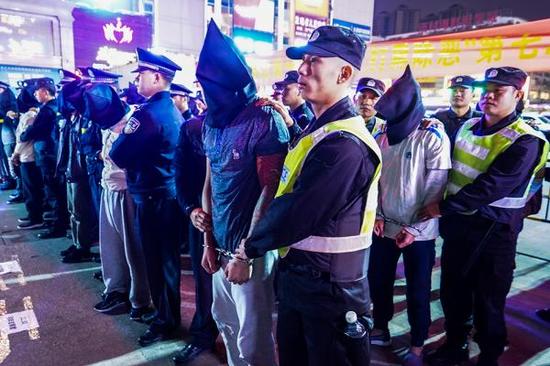 China's latest campaign against organized crime and officials who hide criminal organizations reflects President Xi Jinping's outlook on security and his people-centered governance thought, according to academics.

According to a document released by the Communist Party of China (CPC) Central Committee and the State Council Wednesday, the fight will focus on industries and areas prone to organized crimes that prompt the "strongest public reaction" and that which is "detested" by the people.
The document said China would maintain a tough stance against "all types of organized crime."
The CPC Central Committee with Xi Jinping at its core has attached great importance to national security and people's security since the 18th CPC National Congress in 2012.
In the report delivered to the 19th CPC National Congress in 2017, Xi, also general secretary of the CPC Central Committee and chairman of the Central Military Commission, listed "pursuing a holistic approach to national security" as one of the 14 points underpinning China's endeavor to uphold and develop socialism with Chinese characteristics in the new era.
"We must put national interests first, take protecting our people's security as our mission and safeguarding political security as a fundamental task," Xi said.
While addressing a seminar on national security in February last year, Xi said national security work was essential to protecting people's interests.
"People's expectations on fairness, justice and security have become higher, but mafia-like gangs impact on people's sense of benefit and happiness," said Xu Hanming, a professor with Zhongnan University of Economics and Law.
Compared with previous campaigns, which are focused on social security, the latest one is primarily aimed at consolidating the CPC ruling foundation, strengthening political power at the grassroots level and safeguarding lasting peace and stability for the country.
"The campaign effectively responds to the aspirations of the people to live a better life and is a necessary measure to combat corruption and foster a healthy atmosphere of integrity in society," said Meng Jingtao, an executive director of Youdu law firm in southwestern China's Sichuan Province.
As organized crime is deeply interwoven with corruption, the latest campaign will also deal with the protective "umbrellas" of gang crime.
"Issues concerning people's interests have always been the focus of the CPC Central Committee and that embodies Xi's people-centered governance thought," said Yan Xuegang, a judge from Sichuan Higher People's Court.