Hangzhou vows to open up further
chinadaily.com.cn
1599389563000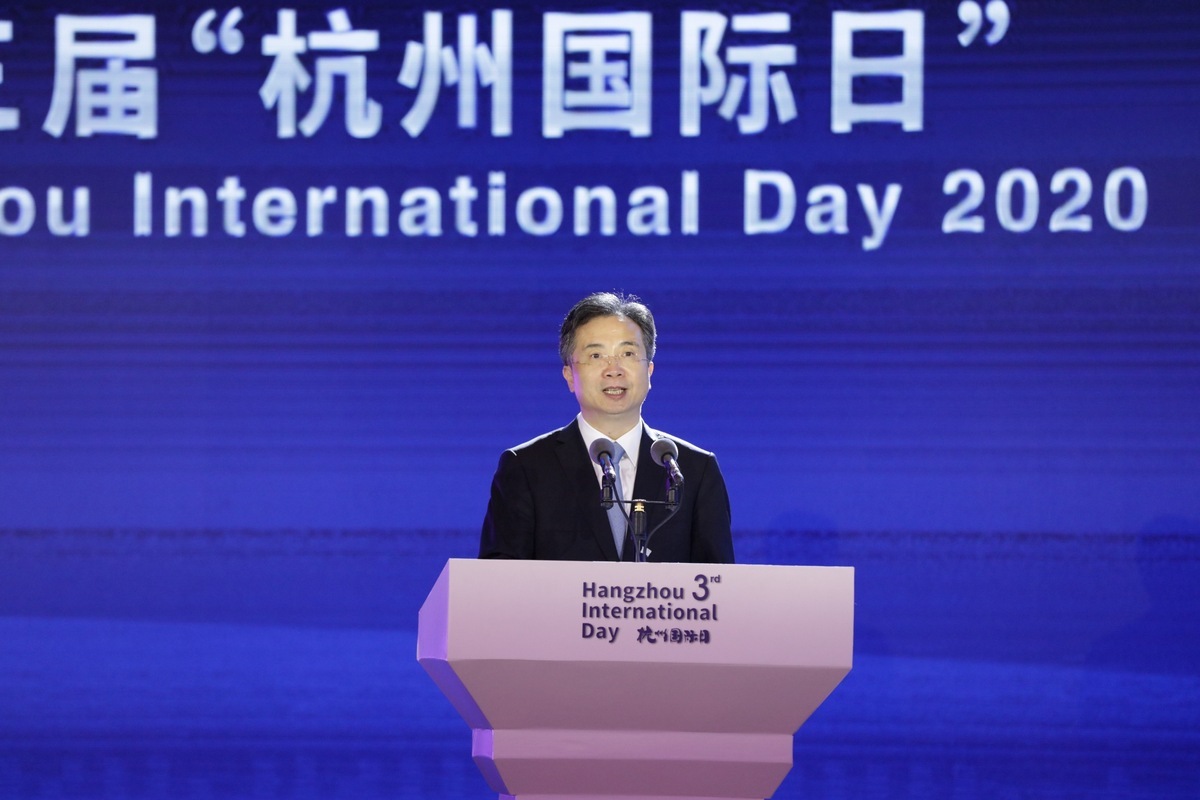 Party Secretary of Hangzhou Zhou Jiangyong delivers a keynote speech at the opening ceremony of the third Hangzhou International Day on Sept 5, 2020. (Photo: chinadaily.com.cn)
Hangzhou, capital of East China's Zhejiang province, is striving to serve as a window of reform and opening-up, digitization, cultural heritage protection and environmental protection, said a top Hangzhou official.
Zhou Jiangyong, Party Secretary of Hangzhou, said at the opening ceremony of the third Hangzhou International Day on Saturday that he hopes the world can get a better understanding of Zhejiang province through its capital city Hangzhou.
Zhou highlighted the practices of Hangzhou in continuing its opening-up drive for more international exchanges and cooperation.
Hangzhou government officials, foreign diplomats and representatives of business and cultural institutions from 26 countries as well as corporate executives, including Party secretary of Hangzhou Zhou Jiangyong, Consulate General of Italy in Shanghai Michele Cecchi and Alibaba Chairman and Chief Executive Officer Zhang Yong, were present at the opening ceremony.
At the opening ceremony, Cecchi expressed his gratitude for Hangzhou's donation of medical equipment for Verona during the COVID-19 pandemic and said that the International Day was a golden opportunity to consolidate the friendship and deepen the cooperation.
The opening ceremony also included other major activities, such as signing of agreement on the 24th China International Software Expo, prize award ceremony for the Qianjiang Friendship Award as well as a number of performances and shows.
The International Day will last until mid-September and include an exhibition, an Asian Games-themed fitness event, a matchmaking event in celebration of the 2020 Sino-Italian Culture Week of Romance, and an agriculture festival in the county-level city of Jiande.