Popular online game aimed at women rewrites rules of male-dominated world
Global Times
1516559543000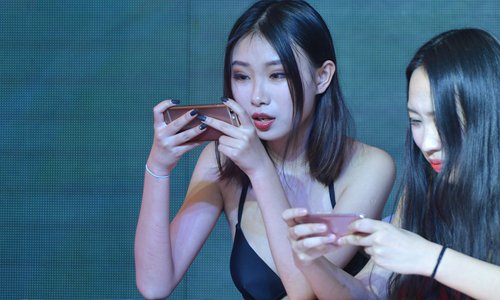 Two women play games on their phones in Shenyang. Photo: VCG
"Happy birthday, Li Zeyan!"

This birthday message appeared in LED lights on the 441-meter high Kingkey 100 Tower, the world's eighth tallest building, in Shenzhen, South China's Guangdong Province, on January 13.

According to the Kingkey Company website, a message like this costs 50,000 yuan ($7,814) a minute to display.

However, Li Zeyan, the lucky birthday boy, will never be able to see it, as he is a virtual character from a mobile phone game that has recently become wildly popular with Chinese women.

The game, Love and Producer, was only released in December 2017 but is now being played by millions of users, with the tag "Love and Producer" garnering about 2.5 billion views on Sina Weibo.

Four hubbies

"This is a game about me and my four 'hubbies,'" said Li Yujia, an 18-year-old university student from Shanghai who has been a devoted player since Love and Producer came out.

In the game, players take on the role of a girl who has just inherited a company from her deceased father and now faces a series of problems when four successful men contact her.

The four characters - a CEO, a genius scientist, a super star and a special police force officer - all flirt with the player in their own particular way.

Players then have to complete various tasks in order to continue their relationships with the four characters.

In terms of detail, the game simulates real life completely - players can phone and text the four men and leave comments on their social media accounts, just like real couples do.

The game features famous voice actors from China and Japan in the men's roles, which has drawn many of these actors' fans into playing.

Since its release, Love and Producer has been in the top 10 list of every platform, with more than 2.6 million downloads, according to china.com on Friday.

"There has hardly ever been a female-centered game of such high quality in the Chinese mobile game market before," Luo Ruixue, a member of the women's rights group Women Awakening Network, told the Global Times on Thursday.

Luo, who played the game out of curiosity, believes it can give female players emotional satisfaction.

"The characters in the game have successful careers and have beautiful faces and voices. In reality, it is impossible for players to have relationships with four such desirable men at the same time," Luo said, "This somehow gives female players imaginary space to escape from real life and satisfies them a lot mentally."

"It's also a good sign that women are actively willing to have fun while seeking emotional fulfillment," Luo said.

Not all praise

However, not all women are so easy to embrace this kind of illusion and fantasy.

"I quit after three minutes because I could not stand the Mary Sue plot!" a 27-year-old player, surnamed Zhu, told the Global Times.

Unlike Zhu, who gave up almost immediately, two other players the Global Times reached, surnamed Wang and Liu, said that they were still playing just to "read the story like an anime and complete the tasks like any other game."

Luo, the women's rights expert, also had her reservations, feeling that the game contained "too many traditional sexual images."

"In the game, the girl (the player) is so gentle and quiet, and passive in the relationship… while the men are all active and capable in different ways," she said. "Actually, the definition of 'romantic' could be more varied."

In recent years, more games targeting women have emerged, as more female players are now getting involved in games that are usually dominated by men.

"Female players have become more and more 'powerful' in the past years. However, the current phenomenon is due more to market demand, rather than a sense of sexual equality," Luo said.

"However, the game Love and Producer, to some degree, has opened a window for women's emotions and desires, which nowadays is not limited by gender or form. The process is also a tendency of social development," Luo noted.