Rise in return trips likely as holidays end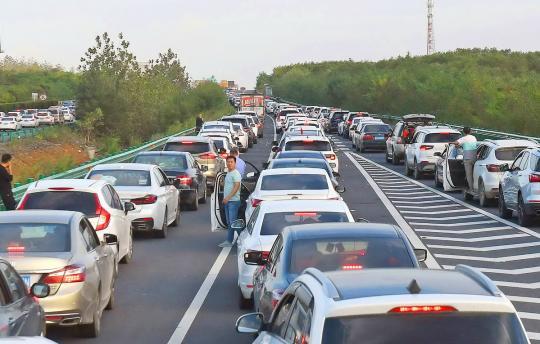 Cars line up on a highway in Chuzhou, Anhui province, on Oct 7, 2020, as the National Day holiday draws to a close. (Photo: China Daily)
Largest travel rush since coronavirus outbreak still trails last year's numbers
Although return trips are expected to surge as the eight-day holiday comes to an end on Thursday, the number of trips has decreased compared with last October's travel rush.
Figures from the Ministry of Transport showed that 379 million road trips were expected to be made from Oct 1 to Thursday, with an average daily decrease of 31 percent compared to last year.
An earlier estimated figure showed that 108 million railway trips would be made and that Beijing's two airports were expected to handle 3 million trips during this year's National Day travel rush. The numbers are lower than last October's figures, when 138 million railway trips were made and Beijing's two airports handled about 3.8 million trips.
However, the number of travelers is the highest since the COVID-19 outbreak.
On Thursday, the last day of the holiday, 13 million railway trips and 48.5 million road trips were expected to made, according to the Ministry of Transport and China Railway Corp, the national railway operator.
On the same day, the Beijing Capital International Airport, China's busiest airport, was expected to handle 149,000 passenger trips, according to the airport.
This year's Mid-Autumn Festival, which fell on Oct 1, coincided with National Day, extending the weeklong holiday to Oct 8.
Many people took the opportunity to travel because it was the first national holiday since the country resumed interprovincial group tours after the COVID-19 pandemic came under effective control in China.
China's daily train trips had exceeded 10 million for eight consecutive days as of Wednesday, according to China Railway Corp.
The Ministry of Public Security's Traffic Control Bureau on Tuesday ordered local authorities to intensify road safety efforts, including increased inspections of traffic violations and taking emergency measures in bad weather, to cope with the large amount of traffic as the holiday came to an end.
Stricter precautions for road safety have been enforced due to fatal car accidents during the holiday.
On Monday, six people were confirmed dead and 14 injured after a truck plowed into a wet market in Minxian county in Gansu province. On Sunday, 18 people were killed and one injured in a car crash on a highway near Fuyu, Jilin province.
The causes of the accidents are under investigation.