Some Shanghai students will return to school in June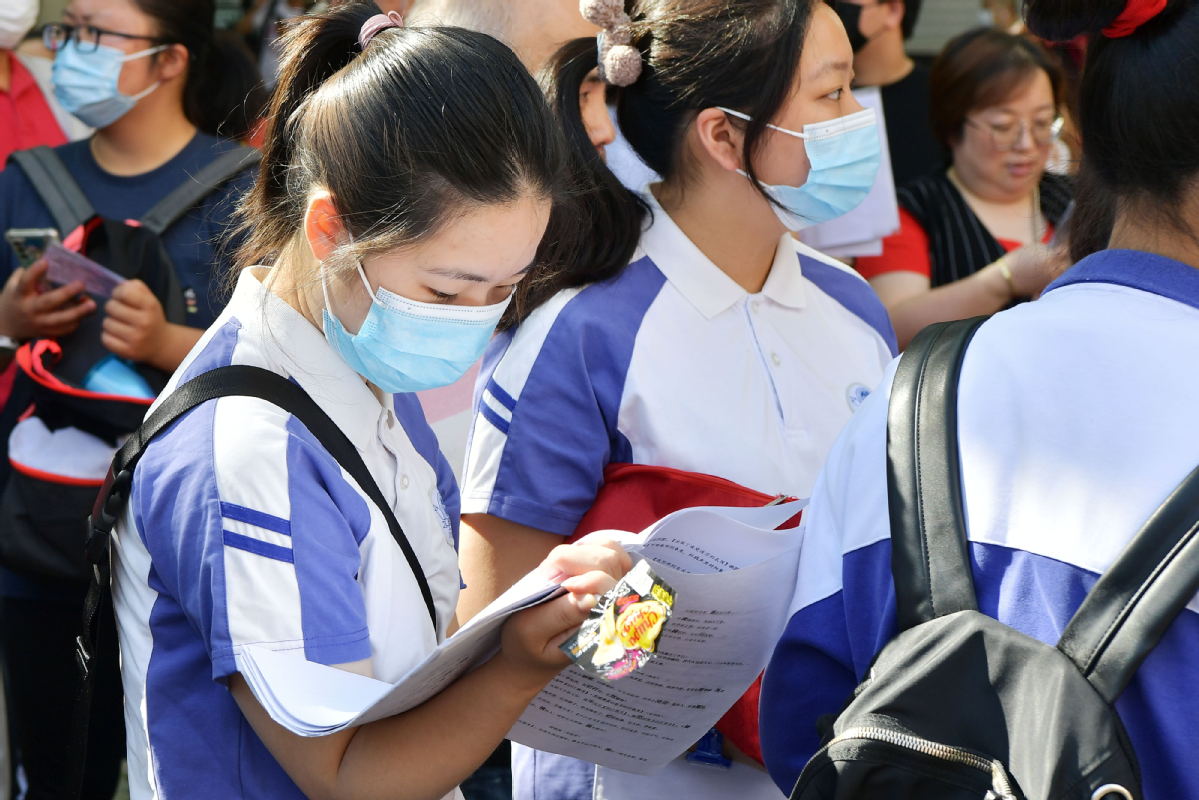 High school students in grades 11 and 12 in Shanghai can return to school from June 6, and Grade 9 students will return on June 13, the Shanghai Education Commission announced on Thursday.

College and senior high school entrance exams have been postponed from June to July due to the recent COVID-19 wave that hit the city, with the former now scheduled to take place from July 7 to 9 and the latter from July 11 to 12.
The resumption of in-person studies is a combined consideration of the city's waning epidemic situation and students' need to study together with teachers and classmates to prepare for the exams, said Yang Zhenfeng, deputy director of the commission.
Yang said that students' health and safety will be prioritized when in-person classes resume, and various measures will be taken to ensure that.
Thorough disinfection and cleaning will be carried out multiple times before students return to their campuses. Nucleic acid testing workers will be stationed in each school in a closed-loop setup. Epidemic prevention materials for at least a month will be stored at each school.
Authorities have required students to take an antigen test before arriving at school every morning as well as a nucleic acid test before leaving school on a daily basis. They also need to have their body temperature measured twice a day at school.
"Grid management will be implemented on campuses. This means dividing different grades, classes and school function areas into grids to minimize the risk of infection," said Yang.
Authorities have also requested schools provide extra care and personalized learning assistance to students whose parents are working on the front line fighting the epidemic or those who have been quarantined for COVID-19 infections or for being close contacts.
In the case of an infection, the infected student will be transported to a designated medical observation facility in Shanghai's suburban Qingpu district. If any student becomes a close contact of an infection, they will be transported to quarantine facilities in the company of their parents in each district. Experienced teachers will be arranged to provide online classes for such students, Yang said.
Makeshift hospitals designated to be used as examination halls for the students will be arranged to ensure that all students have equal and fair access to sitting exams, Yang said.
"We fully understand that the exams matter to the children's future in the long run. We reassure parents that we'll make detailed preparations to create a good environment for the students to prepare for them," he said.
Students can also opt to live at school from Monday to Friday and go home on weekends, Yang said. In-person classes, he added, are optional, and students can continue taking online classes and preparing for exams at home.
Students in other grades in middle and primary schools will continue online classes until the end of this semester. Schools can arrange for these students to return to school before the end of the semester for purposes such as graduation ceremonies for Grade 5 pupils.
Zhao Dandan, deputy director of the Shanghai Health Commission, said enterprises that have resumed business need to abide by closed-loop protocols until the end of this month, and that situation may be subject to change next month based on the epidemic situation.
Shanghai registered 48 local COVID-19 confirmed cases and 290 asymptomatic infections on Wednesday. Thirty-one cases were previously asymptomatic. All infections were found within quarantined and locked-down populations.