US shouldn't sit out BRI: Ambassador Cui
People's Daily app
1556057901000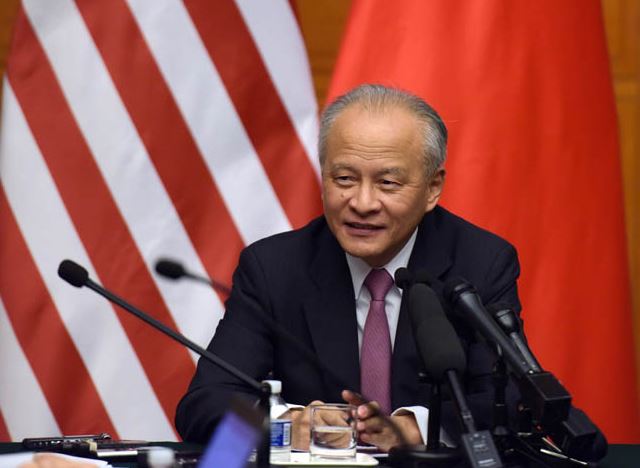 Chinese Ambassador Cui Tiankai. (Photo: china-embassy.org)

Washington (People's Daily) -- Ahead of the second forum on the Belt and Road cooperation in Beijing this month, Cui Tiankai, China's ambassador to the United States, wrote an op-ed "Why the US Shouldn't Sit Out the Belt and Road Initiative" on Fortune's website.
Cui said China's Belt and Road Initiative (BRI), which kicked off almost six years ago, will eventually connect a vast swath of the world, creating huge yields in economic activity, and wiring the world together as never before.

However, the United States remains on the sidelines and this has implications not only in terms of missed opportunities for growth in the US, but for the cause of global development which needs America's ingenuity and industry.

The BRI, which reflects the geographic footprint and spirit of the ancient land and maritime silk roads that linked Asia, Africa, and Europe, has indeed become a massive platform for cooperation and an engine of growth, with 126 countries and 29 international organizations having signed BRI cooperation documents with China.

The ambassador pointed out that the key to BRI's success and popularity is that it focuses on addressing developmental issues. The Chinese know too well that development is key to solving all problems. As the Chinese saying goes, building the road is the first step to becoming prosperous.

In addition to being a massive infrastructure project, BRI is a force for development that will boost trade and investment with our partners, create more job opportunities for locals, and improve quality of life.

Cui also responded to criticism about "One Belt And One Road." He said, the only agenda of BRI is to build a community with a shared future for mankind to promote connectivity. The BRI is open, inclusive and transparent. It is not a geopolitical tool, nor is it designed to form an exclusive clique or impose terms on others.

As to it being a "potential debt trap", Cui said countries which have participated in and benefited from the BRI have debunked such assertions. Finance Secretary of the Philippines Carlos Dominguez publicly stated that debts owed to China account for only 0.65% of the country's total debt. And Dr Karunasena Kodituwakku, Sri Lanka's ambassador to Beijing, dismissed the idea of "debt-trap diplomacy."

As a matter of fact, no country has become trapped in a debt crisis because of its participation in BRI. Quite the contrary, it is through participating in BRI cooperation that many countries have emerged from the trap of underdevelopment or no development.

"So where is the US amid all of this winning?" Cui asked. There are countless opportunities to US corporations available through BRI projects.

Honeywell International is already working with partners to further oil and gas development along the Belt and Road. General Electric has signed a number of deals with BRI partners to provide reliable power and energy to critical regions across the world. Caterpillar is working with China's initiative to solve Pakistan's severe power shortages.

Meanwhile, Citibank is actively providing financing for projects through markets along the Belt and Road. We certainly welcome more taking part.

Looking forward, China will continue to progress towards high-quality development through pragmatic global cooperation. China will enhance trilateral cooperation and encourage cooperation among all participating countries in third markets, achieving win-win results for all.

"My suggestion is that the US embrace this opportunity," Cui said.