BRICS should step up collective efforts for global peace, development: China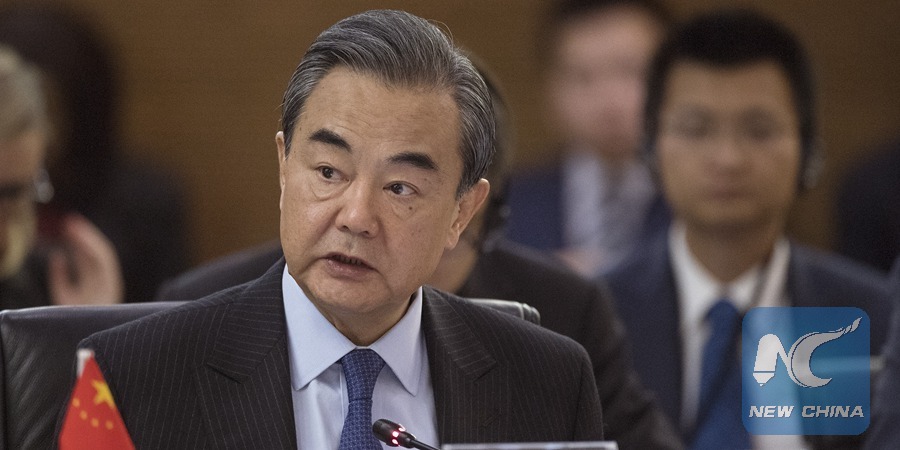 Chinese State Councilor and Foreign Minister Wang Yi speaks at the Formal Meeting of the BRICS Ministers of Foreign Affairs in Pretoria, South Africa, June 4, 2018.(Photo: Xinhua/Chen Cheng)
Chinese State Councilor and Foreign Minister Wang Yi on Monday called for more collective efforts by the five BRICS countries -- Brazil, Russia, India, China and South Africa -- to promote global peace and stability.
Wang made the appeal at the Formal Meeting of the BRICS Ministers of Foreign Affairs, which was presided over by South African Minister of International Relations and Cooperation Lindiwe Sisulu and also attended by Russian Foreign Minister Sergei Lavrov, Indian External Affairs Minister Sushma Swaraj and Brazil's Vice Minister of Foreign Affairs Marcos Galvao.
The top agenda of the foreign ministers' meeting is to lay the groundwork for the 10th BRICS summit to be held in Johannesburg in July.
In his remarks, the Chinese foreign minister pointed out that the world is witnessing unprecedented changes in a century.
Under the circumstances, the BRICS should demonstrate an even broader strategic vision, more powerful collective efforts and a stronger will to shoulder responsibilities to bring more welfare to the people and make greater contribution to world peace and development, he said.
Wang said that the BRICS should serve as the powerful engine of global economic growth, providing a lasting driving force.
They should make joint efforts to build an open world economy, oppose trade protectionism and unilateralism, and safeguard common interests and development space, he said.
The BRICS should be the central pillar of strength providing powerful underlying support for world peace and stability, he stressed.
In light of the current situation, the BRICS should especially jointly stick to multilateralism and uphold the purposes and principles of the UN Charter and maintain international fairness and justice, he said.
He also called on the BRICS to expand cultural and people-to-people exchanges and actively promote exchanges and cooperation with non-BRICS emerging markets and developing countries so as to enlarge the circle of friends and strengthen the BRICS' influence and appeal.
Participants at the meeting spoke highly of the remarkable progress achieved in the past decade of BRICS cooperation, and highly appreciated China's important contribution to BRICS cooperation after it served as chair last year.
As the international landscape is undergoing complicated changes, they said, the BRICS should further strengthen coordination and cooperation, deepen strategic partnership, jointly stick to multilateralism, oppose unilateralism and protectionism and maintain the fundamental norms of international relations.
They also pledged all-out efforts to support and coordinate with South Africa in the preparations for the 10th BRICS summit to ensure its success.