Green, hi-tech, efficiency highlighted in building Xiongan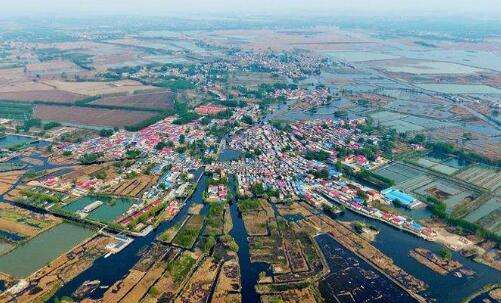 In less than four months, the main structures of the Xiongan Public Services Center, including eight separate buildings, were completed in Xiongan New Area, a new economic zone about 100 kilometers southwest of Beijing.
A year has passed since the central government announced the decision to establish the area on April 1, 2017. China aims to build the area as a low-carbon, intelligent, and globally influential city where people and nature exist in harmony.
This is the third new area of national significance after the Shenzhen Special Economic Zone and the Shanghai Pudong New Area.
The Xiongan Public Services Center, occupying 24 hectares in Rongcheng County, was the first engineering project in the area, and plans are being made to build others.
Senior engineer Song Fusheng is proud of the center. Building materials are prefabricated and assembled, with minimal impact on environment. The construction speed was two to three times that of a regular project, he said.
Song participated in the building of the Shenzhen International Trade Center, a 160-meter-high building which was then the highest nationwide.
"It took us 37 months to finish the building. I feel honored to be part of the historic moment again in Xiongan," he said.
In building the Xiongan center, workers reduced construction waste by 80 percent. Facilities are built to collect and purify rainfall. Workers used more than 30 new environmentally-friendly construction technologies.
"The walls were made with heat-insulating materials. The indoor temperature can be kept above 16 degrees Celsius in winter without having to turn on air conditioning or heating," said Ye Jian, technological supervisor in the project.
"Hi-tech, energy-saving, and environmentally-friendly are the foundations on which Xiongan is built," he said.
Advanced technology has been applied at the construction site. Cameras scan workers' faces and read subtle changes to conclude whether a worker is stressed, needs to rest, or whether it is safe for them to undertake high-risk work.
These new technologies will be used in other buildings in the future, Ye said.
During the past year, 19 hi-tech companies, including Alibaba and Baidu, have signed cooperation agreements with the Xiongan management committee, said Liu Baoling, deputy director of the management committee.
Baidu will apply AI technology in the planning and building of the area.
In December, Baidu tested several of its self-driving vehicles on public roads in Xiongan. The vehicles were in auto-drive mode, although there were drivers seated behind steering wheels.
More than 100 hi-tech companies have obtained commerce registration in Xiongan, Liu said.
Environmental cleanups are also underway in Xiongxian, Rongcheng and Anxin counties. Last year, over 860,000 cubic meters of garbage was cleared from Baiyangdian Wetland. A total of 147 sewerage stations were built in 45 villages in the wetland. More than 80 million cubic meters of water has been added to the wetland.
"In building Xiongan New Area, authorities will highlight quality, efficiency, fairness, and sustainability. These notions are also critical to the development of the country," said Liu Binglian, a member of the experts' council for coordinated development of Beijing-Tianjin-Hebei.