Slower rise in Chinese studying overseas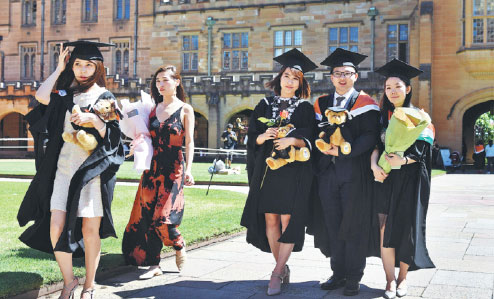 Students from China pose for photos after graduating from a business studies course at the University of Sydney in October 2017. (Photo: China Daily)
The number of Chinese studying abroad grew at a slower rate in 2018 compared with 2017, as more students have come to realize that overseas study does not necessarily guarantee a well-paid job on foreign shores, or back home, education experts said.

In 2018, 662,100 Chinese went abroad to study, up 8.83 percent from a year earlier, while the growth rate was 11.7 percent in 2017, according to the Ministry of Education.
Ran Wei, vice-president of New Channel International Education Group, said that while one should not read too much into the lower growth rate last year because of the large base in 2017, the major motivation for Chinese students going abroad seems to be evolving.
The main driver now for enrolling in offshore schools is to make resumes more attractive for job searches back in China rather than seeking a new life abroad.
A report released in August by the Center for China and Globalization said about a third of graduate returnees to China with four-year degrees currently earn less than 6,000 yuan ($893) a month, while 25 percent make between 6,000 and 8,000 yuan.
For students graduating with four-year degrees from China's top 100 schools, monthly salaries range between 6,000 and 9,000 yuan, according to a Guangming Daily report.
The salaries awaiting returnees to China are paltry compared with the high cost of overseas study, which has risen to an average 300,000 yuan per year for tuition, room and board, the CCG report said.
According to the 2018 Report on Chinese Students' Overseas Study released by New Oriental Vision Overseas Consulting Co and Kantar Millward Brown, about 78 percent of Chinese students abroad planned to work in China either right after graduation or after working overseas for a while, compared with 58 percent in 2016.
The number of Chinese students abroad returning home soon after graduation totaled 519,400 in 2018, up 8 percent from the previous year, the ministry said.
A total of 5.86 million Chinese studied abroad from 1978 to the end of 2018. More than 4.32 million completed their studies, and more than 3.65 million returned to China soon after completing their studies, it said.
The return rate soon after graduation was around 80 percent last year. In 1987, the return rate was about 5 percent, and in 2007 it stood at 30.6 percent.
Ran said more people are returning to China because they are finding it difficult to land jobs overseas, while at the same time the domestic employment market is becoming more appealing.
Chu Zhaohui, a researcher at the National Institute of Education Sciences, said finding a job in China has not been easy in recent years because of the rising number of students graduating from domestic universities.
However, experts believe an overseas education should not be viewed purely from the perspective of return on investment, because the experience can help students develop valuable, nonacademic skills.