HK reports 4 new COVID-19 cases, tally at 1,033
chinadaily.com.cn
1587617792000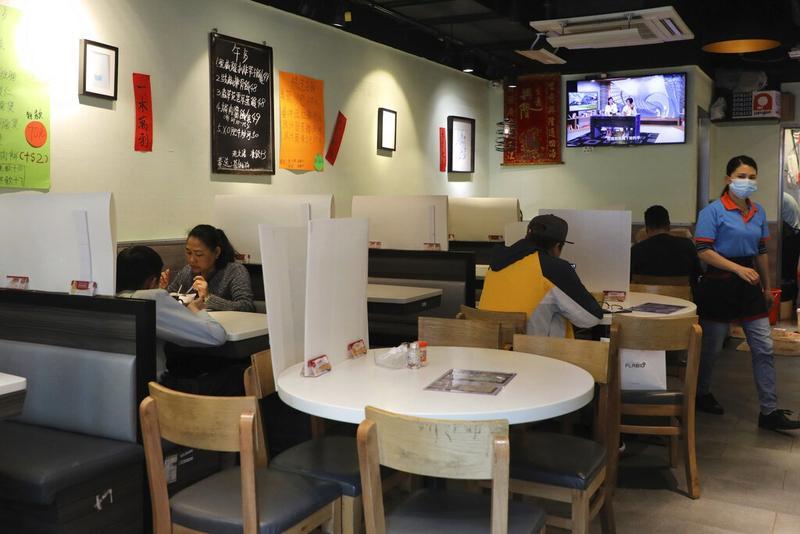 Customers have breakfast with plastic panels setup on the tables to protect themselves from possibly contracting the coronavirus at a restaurant in Hong Kong, April 18, 2020. (Photo: AP)
HONG KONG - Hong Kong recorded four new COVID-19 case on Wednesday – all returnees from the United Kingdom – taking the local tally to 1,033.
The latest patients include a two-year-old boy who was brought back by his mother from the UK on April 12, Chuang Shuk-kwan of the Centre for Health Protection said at a press conference in the afternoon. The kid's parents will be placed under quarantine.
The other patients – one male and two females – flew back to the city on Tuesday and tested positive for the coronavirus while staying at a temporary test center set up at AsiaWorld-Expo.
Besides, a 37-year-old female patient of the disease, who was discharged from hospital on April 18, tested positive again for the coronavirus on Tuesday. She was hospitalized again, though her viral load is low. She is the second recovered COVID-19 patient in the city to test positive for the virus. The first one was a 17-year-old male student.
Also on Wednesday, the first batch of some 10 inbound travelers arrived at the Regal Oriental Hotel in Kowloon City around 4 pm for quarantine after submitting their deep throat saliva specimens for virus testing.
The government has enlisted the hotel as a temporary quarantine center for asymptomatic travelers flying in the city in the afternoon or evening. People are required to stay there until their test results are available. Chuang estimated about 300 travelers will stay in the hotel Wednesday night.
The Hospital Authority, meanwhile, introduced on Wednesday a fast-track nucleic acid test which shortens the average waiting time from four to six hours to about one hour. The test has been applied to potential coronavirus patients in emergency rooms of 10 hospitals.
Besides, the Hospital Authority is rolling out a pilot rehabilitation scheme at the city's traditional Chinese medicine clinics for newly recovered patients. The plan will be put into effect as soon as this month.
Another 28 patients were discharged from hospitals in the past 24 hours, taking the total number of recovered COVID-19 patients to 677.