Tianhe core module finishes in-orbit performance checks, ready for docking with cargo spacecraft
Global Times
1621379621000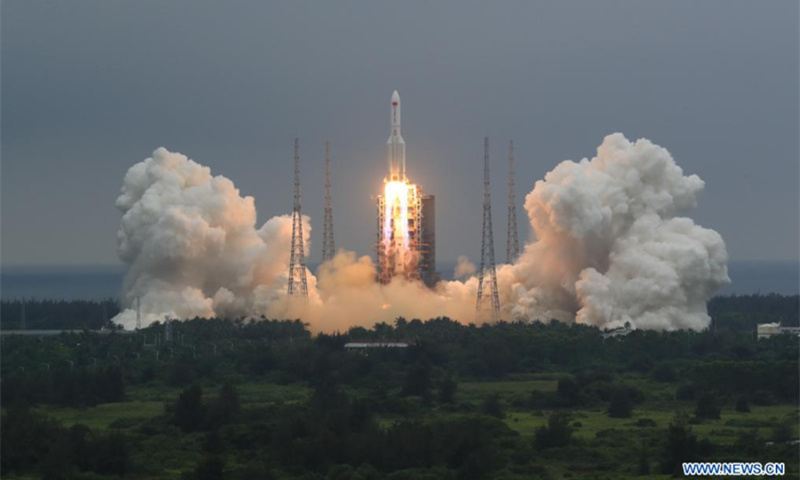 The Tianhe core module cabin, the first section for China's space station project, has completed in-orbit performance checks with all systems in good condition.
It is preparing to dock with the Tianzhou-2 cargo spacecraft, the Global Times learned from China Manned Space Agency (CMSA) on Tuesday.
Platform functional tests, including rendezvous and docking, life support systems for astronauts and robotic arms, as well as a series of space application equipment examinations, have been carried out on the core module cabin, CMSA said in a statement.
All functions are operating normally and in good condition, it noted.
The core module cabin has entered preset orbit and is ready for rendezvous and docking with the Tianzhou-2 cargo spacecraft, which was rolled out to the launch pad on Sunday with the Long March-7 Y3 carrier rocket at the Wenchang Satellite Launch Center in South China's Hainan Province.
CMSA has yet to disclose the launch window for the Tianzhou-2 cargo spacecraft as of press time.
Wenchang's transport department said on Tuesday that to ensure the safety of road traffic during an upcoming rocket launch mission, several roads in the city near the launch site will be subject to traffic control from Wednesday 8 am to Thursday 8 am, according to China Space News, the newspaper co-hosted by China Aerospace Science and Technology Corporation (CASC) and China Aerospace Science and Industry Corporation (CASIC).
The cargo spacecraft will load necessities for astronauts, laboratory apparatus and maintenance equipment, and bring power systems and propellants to fuel in-orbit spaceships, CMSA said on Monday.
The Tianhe core module cabin was launched on April 29, kicking off an intense construction stage for China's first-ever space station. The space station is expected to be the only operational one in orbit after the retirement of the International Space Station.
China kicked off an intense construction phase of the country's first space station project with the launch of the Tianhe core module cabin. A busy schedule of 11 launches has been set for the next two years, and by 2022, the space station is expected to be operational.