China-Africa cooperation: Strengthen infrastructure for more convenient lives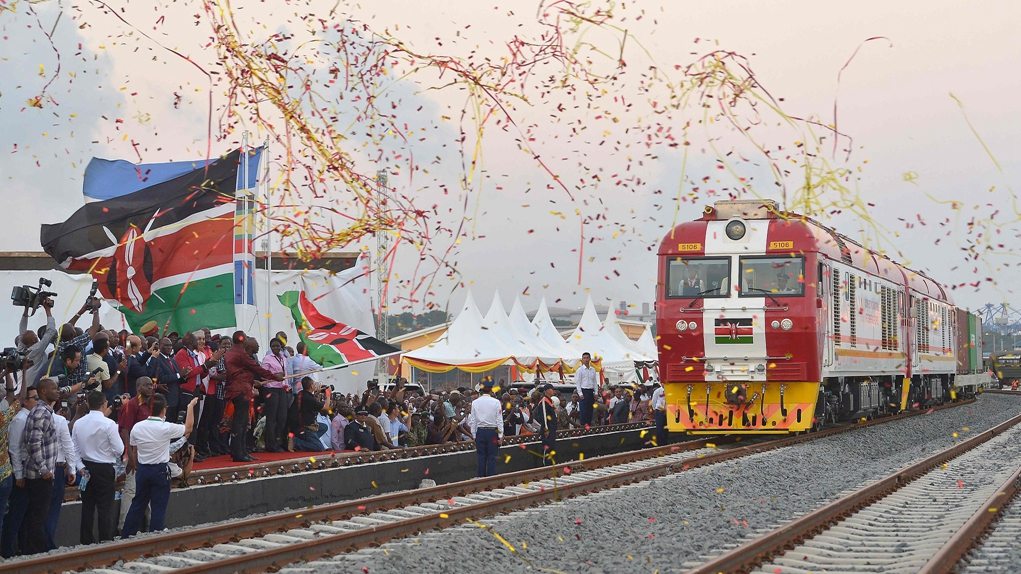 (Photo: CGTN)
Facilitating coordinated and balanced development for China-Africa cooperation is one of the five goals of the 2018 Forum on China-Africa Cooperation (FOCAC) Summit in Beijing. The China-Africa infrastructure plan, put forward by Chinese President Xi Jinping at the 2015 Johannesburg Summit, is an important part of China's cooperation with Africa to keep improving the lives of locals.
With the Beijing Summit less than one day to go, CGTN will take you to look at three areas of China-Africa infrastructure cooperation: railway systems, information highways and power supplies, to feel its capability and effectiveness.
Improving transport with railways
China has been playing a crucial part in improving Africa's transport over the years, giving a much-needed boost to the continent's efforts to achieve regional integration.
Data from the Chinese government show that China has helped build or are building more than 6,200 kilometers of railways in Africa.
Following is a list of some major railways undertaken by Chinese firms since 2015.
- Mombasa-Nairobi Standard Gauge Railway, Kenya
China in May 2014 signed a deal to build the rail link worth 3.8 billion dollars between Kenya's Mombasa and Nairobi. Around 480 km long, the project's passenger service was launched in mid-2017.
The project, which marks the first phase of a line that is expected to cover a distance of about 2,935 km and eventually connecting Uganda, Rwanda, Burundi and South Sudan, will facilitate transportation and boost trade in the eastern African region.
It features passenger trains with a speed of 120 km per hour and freight trains designed to move at 80 km per hour.
- Lobito-Luau railway, Angola
In 2015, a 1,344-km railroad project spanning Angola was completed and put into operation. The railway, linking the coastal city of Lobito in the west and Luau city which borders the Democratic Republic of Congo, is the second longest railway built by a Chinese company for Africa after TAZARA.
- Abuja-Kaduna railway, Nigeria
The railway, built by China Civil Engineering Construction Corporation, covers a distance of 186.5 km and links the capital city Abuja and the northwestern state of Kaduna. It has nine stations and a designed speed of 150 km per hour. Built in 2011, the railway became operational in July 2016.
- Addis Ababa Light Rail Transit, Ethiopia
The electrified Addis Ababa Light Rail Transit was the first light railway on the African continent with two lines of a total length of 34 km. The project, built by China Railway Group, became operational in September 2015. The rail service, estimated to transport about 60,000 passengers per day, helps ease people's travels in the Ethiopian capital.
Excavating information communication potential
Building information highways across Africa is no less important than constructing transportation systems, both promoting people-to-people communication and regional connectivity.
At the end of 2013, about 74 percent of the African population had mobile phones, but only one in five had access to the Internet. Even in Nigeria, the country with one of the most developed communication networks in Africa, over two-thirds of its people were not connected to the Internet, according to the African Economic Outlook 2015.
Statistics revealed by the Global System for Mobile Communications Alliance in November 2017 show on average, 69 percent of Africans were "offline" and that most of them lived in rural areas.
However, the situation has improved as Chinese telecommunication companies have been trying to help Africa excavate its potential. In 2014, China's Huawei started the five-year training program for altogether 10,000 African technicians in the field of information and communication technology. At the beginning of 2015, Huawei said it would get 50 percent more local employees in South Africa.
Efforts have been made not only by Chinese communication suppliers but also come from its optical fiber and cable enterprises, such as Yangtze Optical Fiber and Cable (YOFC) Joint Stock Ltd. Co. In May 2016, YOFC set its manufacturing factory in the South African city of Durban, with the planned annual capacity of one million km of fiber cables in the initial stage.
A leading independent analyst and consultancy firm, Ovum, predicts that in 2020, African mobile users will reach 1.32 billion and the Internet users on the continent will exceed one billion, with optical fiber subscribers growing to 1.2 million from 166,000 in 2016.
"There's still huge potential for cooperation between China and Africa in information and telecommunication," Zhao Houlin, secretary-general of the International Telecommunication Union, said when interviewed by Xinhua News Agency in August.
"Compared with European and US peers, Chinese companies do a better job in meeting local needs," Zhao added, saying Chinese companies put themselves in Africans' shoes, thus both sides can find a more solid base for cooperation.
Tackling power deficit
China and Africa have been working together in narrowing the power deficit in Africa, a perennial problem that still leaves two-thirds of the population in sub-Saharan Africa without access to a reliable supply of electricity.
The following is a list of three Chinese-constructed hydro-power plants, some of which have already been commissioned.
- Kariba South Expansion Project, Zimbabwe
Zimbabwean President Emmerson Mnangagwa on March 28 commissioned the 533-million-US-dollar Kariba South Hydro Power expansion project, arguably the country's biggest power development project since independence in 1980.
The project was done by China's hydropower engineering and construction firm, Sinohydro from 2014, and is expected to ease power shortages for the country that has faced perennial power shortages due to aging plants and has had to rely on imports to plug the shortfall.
- Soubre hydroelectric power station, Cote d'Ivoire
This station in Cote d'Ivoire is considered the largest of its kind in the West African country. Across the continent, the 275-MW power station in Cote d'Ivoire, built by a Chinese company, was completed eight months in advance since work started in 2013, creating a new "Chinese miracle."
- Karuma Hydro Power Project, Uganda
The Karuma Power Plant along the Nile River in northern Uganda is being financed by the Chinese government and is the first underground power plant in the East African region. When completed, the plant is expected to provide over 600MW of electricity.
Construction of the plant started in August 2013, and has entered the final phase in August.
The win-win cooperation, common development, and "a comprehensive strategic cooperative partnership" between China and Africa cannot be achieved without those encouraging results in infrastructure construction. Yet, all the above shows only a corner of the whole picture.
If you are eager to know more, in the next two days at the Beijing Summit, the CGTN tech team will take you to see African countries' natural resources, wild animals, and use of clean energy from the perspective of China-Africa cooperation.