Chinese vice premier meets senior Swedish banker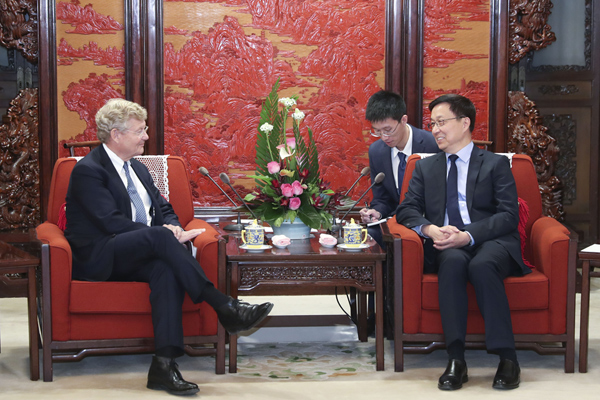 (Photo: Xinhua)
Chinese Vice Premier Han Zheng met with Jacob Wallenberg, Investor AB board chairman, here on Friday and they exchanged views on the world economy, free trade and scientific innovation.
Han, also a member of the Standing Committee of the Political Bureau of the Communist Party of China Central Committee, said that friendly cooperation and mutual benefit has always been the mainstream of relations between China and Sweden, and he expected the two sides to enhance bilateral ties in a sustainable and healthy fashion.
"Economic globalization is an irresistible trend. China is willing to work with Sweden to maintain the multilateral trade mechanism and move world economy towards a more open, inclusive, universally beneficial, balanced and win-win direction," Han said.
"As China opens its door wider, China welcomes the Wallenberg group and Investor AB to continue to give play to their unique advantages, expand investment in China, and achieve more progress in win-win cooperation."
Wallenberg said the Wallenberg group firmly supports free trade, cherishes its ties with China, values the Chinese market and would enhance cooperation with China in scientific innovation.