Opera towns becoming a new stimulus for China's tourism industry
Global Times
1540492215000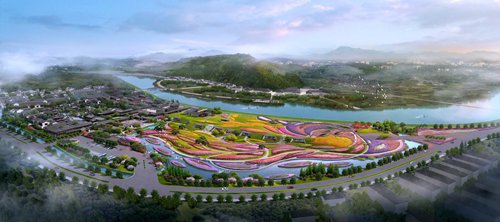 The concept design for the Yueju Opera Town in Shengzhou, Zhejiang Province (Photo: IC)
The emergence of towns trying to attract tourists by offering traditional local opera and theater performances in recent years has sparked a lot of discussion in China, especially after the recent launch of a project in August that seeks to transform Zhejiang Province's Shengzhou, the birthplace of Yueju Opera, into an "environmental friendly, first-class opera town."

The Yueju Opera Town Project seeks to promote tourism by building 10 opera houses for performances of traditional Yueju Opera as well as other Chinese dramas from the Yuan (1279-1368), Ming (1368-1644) and Qing (1644-1911) dynasties, in addition to restaurants, boarding and commercial areas, according to media reports.
The project has certainly captured experts' attention.
At the Performing Arts Industry Innovation Forum held at the 20th China Shanghai International Arts Festival in Shanghai on Monday, it was one of the most hotly-discussed topics.
Aside from attracting tourists, the project is also aiming to create an art hub.
"The significance of the Yueju Opera Town is not just about bringing the opera style home, but also about creating a new lifestyle and to new space for artistic development. There you can live the life that Chinese people used to live as there are many farmhouses where every household can farm - artists can create their works with a relaxed mood there," said Guo Xiaonan, head of the project, at the forum.
"Our goal is also to build homes for artists and turn it [Shengzhou] into a dreamt destination that combines creative studios, artist bases as well as an exhibition and performance center," said Guo.
Aside from Shengzhou, Wuzhen, some 130 kilometers away, is the province's another representative opera town. Every October, the annual Wuzhen Theater Festival brings youth dramas and troupes from all over the world to the town. Currently, Wuzhen attracts around 10 million visitors every year and is now recognized as one of the major art centers in East China.
Experts attending the Monday forum also pointed out that China's rising opera towns could learn lessons from cities in Western countries, such as Bregenz, Austria, and William Shakespeare's hometown Stratford-upon-Avon in the UK, both of which hold major art festivals.
"Bregenz hosts an one-month art festival where they stage opera performances on the lake every year. Due to this event, hotels in a 10-kilometer radius around the town are completely booked solid in advance. This is one of the most successful examples of how dramas and culture can impact other industries," said cultural industry expert Wang Xin at the forum.