Rules to curb improper use of education apps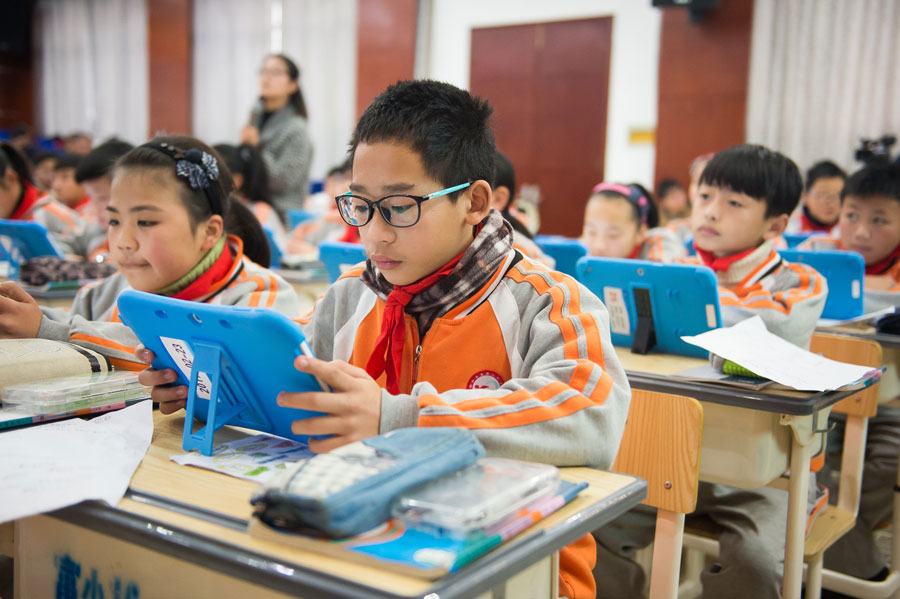 Fifth-graders use tablet computers in a math class in Tonglu, Zhejiang province. (Photo: China Daily)
Schools told to get opinions from parents, students, teachers before adopting them
Education authorities and schools should ask the opinions of students, parents and teachers before introducing applications to students, according to a guideline issued by the Ministry of Education and seven other departments on Thursday.
It is the first national guideline regulating apps used at schools, as there have been many complaints by students and parents concerning this issue. There have been problems with students having to use too many apps, and some apps have collected personal information or have even contained pornography.
All apps used at all levels at schools should register with provincial education authorities by the end of this year, and a long-term management mechanism on the apps with specific standards and rules should be established by the end of 2020, the guideline said.
Provincial education authorities should work with other departments to select apps that meet the standards before recommending them to schools, the guideline read.
Schools should not charge any fees for apps for teaching and student management, and these apps should not contain any commercial advertisements or games, it said.
When the school recommends other apps to students, they cannot force students to use them or associate the use of the apps with grades, credit or honorary titles.
The guideline added that apps for student management should be comprehensive and contain different functions in order to cut the number of apps students need to download.
Lei Chaozi, director of the ministry's Department of Science and Technology, said the ministry conducted inspections at 100 universities in March and found that some had introduced more than 20 apps to students, which has caused some serious headaches for students and teachers.
The schools should limit the number of apps for students and there should not be different apps for the same type of service, Lei said.
The apps should collect as little information as possible and they should not repeatedly collect information from students or collect students' bio-identification information, he said.
Yang Mengdong, deputy director of the National Office Against Pornographic and Illegal Publications, said apps have become an important way for studying and provided much convenience for students and teachers.
China's online education market is expected to exceed 260 billion yuan ($36.4 billion) by the end of this year, with online education users among primary and secondary students reaching 80 million, he said. However, he added that some apps, driven by profit, contain large amounts of vulgar and pornographic content.
A special campaign led by the office, along with the Publicity Department of the Communist Party of China Central Committee, the Cyberspace Administration of China and four other departments has shut down more than 200 apps that are harmful for students, he said.
Xiao Xiao, a high school student in Chengdu, Sichuan province, said he welcomed the regulation on apps at schools.
The school has forced the teachers and students to download different apps for doing homework, watching videos, grading test papers and even buying school uniforms, he said.
"My problem with the apps is that they often have lots of advertisements, are poorly designed and contain lots of bugs, which makes them very inconvenient to use," he said.