Snow leopard spotted in SW China scenic area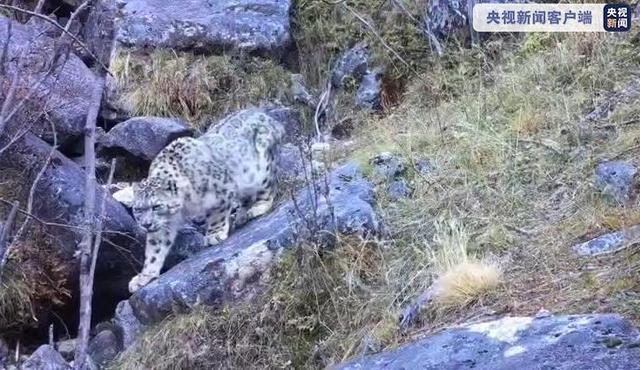 CHENGDU -- A snow leopard was caught on camera in the Genyen Mountain scenic area, Litang county of Ganzi Tibetan autonomous prefecture in Southwest China's Sichuan province, local authorities said Monday.
The leopard was spotted by a villager passing by the tourist routes in the scenic area on Nov 13. It was feeding on a freshly caught goat and quickly moved away when it spotted the villager.
In the video, the muscular leopard descended from the hillside, paused on a rock for a moment, and then stared into the camera.
The footage, captured by the villager with his mobile phone fixed to a tree, is the first time the species has been spotted in the scenic area.
Snow leopards are under China's highest national-level protection and are listed as vulnerable by the International Union for Conservation of Nature. The species mainly inhabit the Himalayas in central and southern Asia at an altitude of 2,500 to 4,500 meters.
In China, they can be seen in the alpine areas in southwestern and northwestern regions including Tibet, Sichuan, Xinjiang, Gansu and Inner Mongolia.
Geyen Mountain, also dubbed as "Geyen holy mountain," is Sichuan's third tallest and a holy shrine renowned among the Tibetan people in the region.