New scheme set to protect children's eyesight
BEIJING, Aug. 30 (Xinhua) -- China will soon roll out a new scheme to curb the rise in nearsightedness - or myopia - among children and teenagers for the sake of their health and the nation's future.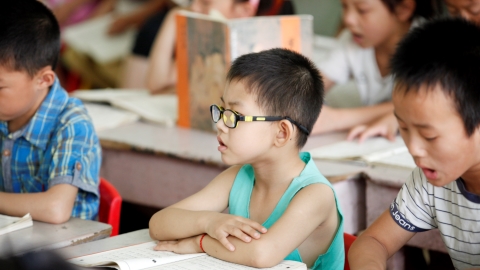 Photo: Shine.cn
Authorities have sought public opinions on the scheme, which is jointly drafted by the Ministry of Education (MOE) and the National Health Commission (NHC).
The scheme aims to greatly reduce the myopia rate among the Chinese teenagers to bring children a "bright future," as demanded by President Xi Jinping in a recent instruction.
The high incidence of myopia among students, which affects more and more children at a younger age and undermines their health, is a major problem concerning the future of the country and the Chinese nation, Xi instructed after reading a recent media report on the problem.
The scheme aims to keep the myopia rate among 6-year-old kids at around 3 percent by 2030, with the incidence among primary school kids to drop below 38 percent, and the rate among junior and senior high school students to fall below 60 percent and 70 percent respectively.
About 36.5 percent of the fourth graders and 65.3 percent of the eighth graders have poor eyesight, according to an MOE report released in July this year.
Another report by a health research institution under Peking University showed more than 70 percent of high school and college students were nearsighted, warning China may be short of labor with qualified eyesight in sectors like aerospace, sophisticated manufacturing and the military in the future if myopia worsens.
Increased school workloads and heavier use of electronic devices are regarded as major reasons leading to the worsening nearsightedness.
According to the MOE report, 14.7 percent of fourth-grade students and 19.2 percent of eighth-grade students on average spend over an hour everyday doing maths homework, while 43.8 percent of the fourth graders and 23.4 percent of the eighth graders take extra maths training outside classes.
The scheme encourages children to spend more time outdoors and orders schools not to leave written assignments to first and second graders.
Jiao Yahui, an NHC official, said the children and their parents need to raise their awareness to protect the eyesight for the kids.
The scheme also introduces indicators to assess the performance of local governments on their measures to control myopia of children under their jurisdictions.