Liaoning to be part of PLA Navy drills
Global Times
1521882080000
US actions seriously provoke China's military, politics: MOD

The People's Liberation Army (PLA) Navy will carry out combat drills in the South China Sea, PLA's first this year, which may include China's first aircraft carrier Liaoning, military analysts said.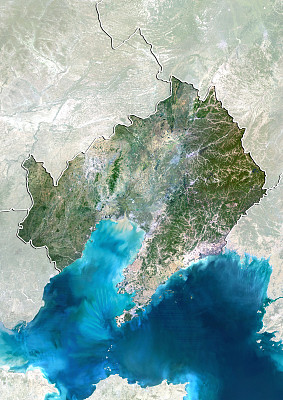 Province of Liaoning, China, True Colour Satellite Image. (Photo: VCG)
This is a routine and planned arrangement to test and improve the military's training level and comprehensively enhance its ability to combat and to win. The drills are not targeted at any specific country, the PLA Navy said Friday, without elaborating on the drills' time and location.
A military source told the Global Times on condition of anonymity that the plan of the combat drills was decided at the beginning of the year, and will be conducted in China's territorial waters.
Another military expert who requested anonymity told the Global Times that China's first aircraft carrier Liaoning may, for the first time, participate in the drills, as it is capable of preliminary combat power after five exercises.
In response to whether China's aircraft carrier has combat power, Ministry of National Defense (MOD) spokesperson Ren Guoqiang said at a media briefing last October that combat ability is improved through stronger military drills, and the level of combat ability is tested through combat drills.
The Liaoning and its escort warships were seen in the air defense identification zone of Taiwan Tuesday night, Taipei Times reported Thursday.
Also in the South China Sea, a US navy destroyer carried out a "freedom of navigation" operation on Friday, Reuters reported, citing US officials. The officials, speaking on condition of anonymity, said the USS Mustin traveled close to Meiji Reef in the Nansha Islands and carried out maneuvering operations.
The Chinese navy identified the US warship USS Mustin trespassed Chinese waters near relevant islands and reefs in the South China Sea, and warned it to leave, MOD spokesperson Ren Guoqiang said Friday.
The US frequently deploys its military vessels to the relevant islands and reefs in the South China Sea which greatly undermines China's sovereignty and safety, violates basic norms of international relations and jeopardizes regional stability.
The US actions have led to close contacts of navy and air forces of the two countries, which was a serious provocation on China's politics and military, Ren said.
The US' provocations could prompt China to further strengthen its defense construction to resolutely safeguard its sovereignty and safety, Ren said.