Tibet's cultural industry sees sound development
LHASA, April 19 (Xinhua) -- Tibet Autonomous Region's cultural industry has increased more than 10 percent in output value annually for five consecutive years since 2013, according to local cultural authorities.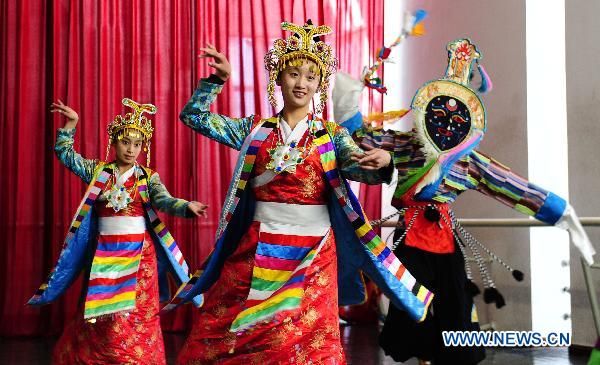 File photo: Xinhua
The output value of Tibet's cultural industry grew from 2.4 billion yuan ($358 million) in 2013 to 4.6 billion yuan last year, the regional cultural department said.
There are over 6,000 cultural enterprises and 234 cultural industrial parks now in Tibet. The cultural industry has become a new driving force of Tibet's economy.
Tibet's cultural industry covers a variety of fields including tourism, performances, handicrafts with ethnic-minority characteristics, creative designs, exhibitions, festivals, publishing, television and film and recreation.
The performance of "Princess Wencheng" has achieved huge success since it started in Lhasa, the capital of Tibet, in 2013. It has become an important tourist destination alongside spots such as the Potala Palace and Jokhang Temple.
So far, more than 1,000 performances have been staged in Lhasa for more than 2.1 million people. The shows have brought around 770 million yuan of profit and provided jobs for over 1,000 local farmers and herdsmen.
Sonam Tsering, 62, has worked for the theater for seven years. The local herder and his 125 goats have roles in the show.
"By having my goats participate in the show, I can earn 125,000 yuan per month, which is much more than doing farm work or grazing," he said.
"The performance of 'Princess Wencheng' is a model of Tibet's cultural industry, which has played an important role in leading the cultural development of the region," said Norpu Tsering, a local cultural official.
The department said Tibet has set up six cultural industry trade offices in Shanghai, Shenzhen, Jiangsu and Changsha. New offices are expected to open in the Republic of Korea and the Netherlands.