Rosy prospects for Bulgarian fragrance maker
Global Times
1556474731000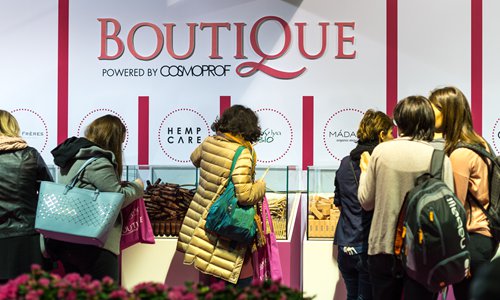 People visit the Cosmoprof Worldwide, a leading beauty industry trade fair, in Bologna, Italy on March 16, 2018. (Photo: IC)
China's Belt and Road Initiative is usually associated with massive infrastructure and trade investments, but for one Bulgarian entrepreneur, the prospect of joining the Initiative is literally strewn with roses.

For Mihail Mihaylov, head of Bulgarian Organirose Ltd, it all started in 2016 at Cosmoprof Worldwide, a leading beauty industry trade fair in Bologna, Italy.

Mihaylov teamed up with partners from China to showcase facial masks - a traditional method of facial care in China - made from petals of roses, of which Bulgaria is famous. The country produces an average three tons of rose oil each year, which represents around half of global demand for this essential oil.

Combining traditions

Visitors and experts were equally appreciative, Mihaylov recalled in an interview with Xinhua, because such a product combining the traditions of two geographically remote cultures "had not been presented at such a big fair before."

"Italy, the first Group of Seven member state to endorse the Belt and Road Initiative, has become our stepping-stone for Europe," Mihaylov explained, recalling the evolution of Organirose's marketing strategy. Back in 2016, Mihaylov's company concluded a contract with an Italian partner, and Cosmoprof's facial masks went on sale in Italy.

The Italians tend to be "fashion-oriented," and they found the unique product from the company attractive and innovative, he said.

Organirose's hydrating mask is recommended to be applied for 15-20 minutes, as opposed to moisturizing creams, which are normally dabbed or rubbed on the skin. The effect is much better, Mihaylov explained, as this way all the mask's active ingredients can seep into the skin. Rose water and rose oil have around 400 active ingredients, and their effect is highly beneficial, he said.

Professional cosmetologists were also "very impressed with this combination of silky film, rose oil or rose water," Mihaylov said. Since the trade fair, many companies have begun to launch similar products. "Of course, none of them do it like us, with 100 percent natural rose water," Mihaylov claimed.

"The combination of Bulgarian roses, facial masks and the Chinese tradition of using facial cosmetics turned out to be a hit among customers," Mihaylov said.

Eastward expansion

The oil-bearing rose Rosa Damascena was brought to Bulgaria from the Middle East more than 300 years ago. Technology for the production of rose oil has also been well developed in Bulgaria.

Today, Italy is responsible for about 30 percent of Cosmoprof's business in Europe, and Mihaylov is busy exploring other markets along the Belt and Road routes.

In Romania, sales developed rapidly thanks to the two countries' geographic proximity, kindred mentality and Mihaylov's previous contacts. "There we have a very large distributor with its own big chain of stores and network that works very well," he said.

Greece was the first country where his partners agreed to jointly establish a large chain of stores in several tourist destinations like Santorini and Mykonos, Mihaylov said. The first store is scheduled to open later this year.

Mihaylov's next target is Russia, although this project is no bed of roses. "I have been in the business for over 20 years. At the beginning, the best cosmetics business was with Russia, but it has fallen to zero," he said, citing the trade embargo and very difficult payment, supply and import conditions as causes.

"I very much want to have business with Russia, but unfortunately it is not possible for now. I hope the Belt and Road Initiative will create normal conditions for all types of relationships - cultural, economic and people-to-people," Mihaylov said.

Mihaylov first visited China 12 years ago to participate in a trade show. Today, he conducts the best part of his business with China, and his company's prospects are looking up.

"People's emotions, feelings and especially their attitudes towards roses in China are very similar to those of us Bulgarians," Mihaylov said, admitting that "for Europeans, the rose is mainly business - they do not have such an attachment to the rose."