Leading Chinese private rocket firm's failure won't dent industry's growth
Global Times
1540776046000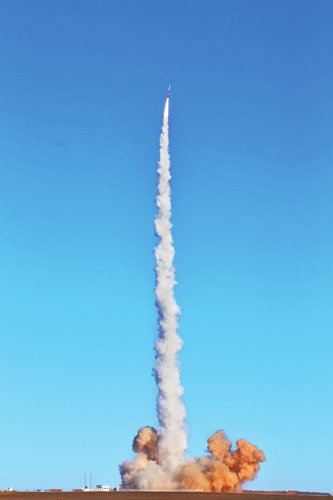 LandSpace launches its first rocket carrying a small satellite at the Jiuquan Satellite Launch Center, Northwest China's Gansu Province, on Saturday. (Photo: VCG)
The failure to send a satellite into orbit by LandSpace, seen by some as China's answer to SpaceX, won't dent the growing momentum of the nation's nascent private-sector commercial rocket launches, said analysts.
On Saturday, Beijing-based LandSpace launched its first rocket carrying a small satellite for State broadcaster China Media Group at the Jiuquan Satellite Launch Center, Northwest China's Gansu Province. The rocket's first and second stages worked well but an abnormality occurred during the third stage, and the cargo failed to reach its target orbit, according to the company's official Weibo.
The proprietary three-stage solid propellant rocket, named ZQ-1, is 19 meters tall with a takeoff weight of 27 metric tons.
LandSpace is a leading participant in China's private-sector efforts to launch commercial rockets aimed at a niche market of carrying smaller satellites into space, inspired by the success of Elon Musk's SpaceX. The fast development of the industry has seen two Chinese private firms successfully test rockets this year.
According to a January report by spaceworkscommercial.com, there is a need to launch 2,600 mini-sized satellites in the next five years.
Industry insiders said that if LandSpace could successfully put a satellite into orbit, it would win credibility as being able to deliver a cargo into space and separate itself from rivals by securing more confidence and funds from investors.
"The launch showed a private rocket is highly controllable and the overall performance of the first launch of ZQ-1 beat many similar missions in history," Zhang Changwu, CEO of LandSpace, told the Global Times on Saturday. "It also showed the support of the government for the development of private rockets and the aerospace industry."
Huang Zhicheng, a professor at the Beijing Institute of System Engineering, told the Global Times on Sunday that "for a fledging private start-up that's only three years old, the result is quite good." But he urged Chinese private-sector companies to pursue scientific development, not nominal titles.
SpaceX and Rocket Lab, both commercial rocket companies from the US, each had their moments of failure.
Lan Tianyi, founder of Beijing-based Ultimate Blue Nebula Co, a space industry consultancy, said there are many successful aspects for this failed mission.
"The fact that a private company's rocket gained clearance from State authorities for a launch permit, and conducted the launch in a State space center, and that the entire workflow was covered by this launch, showed that a private Chinese company can build and launch rockets," Lan told the Global Times on Sunday.
"The launch of LandSpace's ZQ-1, which is a near success, will be a confidence booster for other Chinese private companies that are yet to launch their first payload-carrying flights," Lan said.
The mission's failure was seen in a positive light by most netizens, as the topic became one of the most widely discussed over the weekend.
Many pointed out that failure teaches success and said the events of Saturday were a momentous first step by China's private-sector space companies worthy of applause for its partial successes during the launch.
"This could possibly be next year's essay topic for the college entrance exam," a netizen named miggina wrote in a post comment.
Lan said the failure by LandSpace will not damp the development of China's private commercial rocket industry - on the contrary, there is plenty of encouragement.
"In 2015, there were just a few commercial aerospace companies in China. Now, there's a new venture almost every month, showing that investors are getting to know this sector better," Lan said.
"The widespread attention gained by the LandSpace launch and people's tolerance of failure and their encouragement may actually make China's aerospace industry better," Lan said.
For small satellites, the success rate isn't the only target for clients, who may have other preferences such as timing and price, industry insiders said. The development of space insurance has also helped.