Over 7.5 mln sampled for COVID-19 testing in China's Qingdao
QINGDAO, Oct. 14 (Xinhua) - Over 7.5 million people had been sampled for nucleic acid testing by 9:30 a.m. Wednesday in east China's Qingdao City, after it began a city-wide testing campaign on Monday.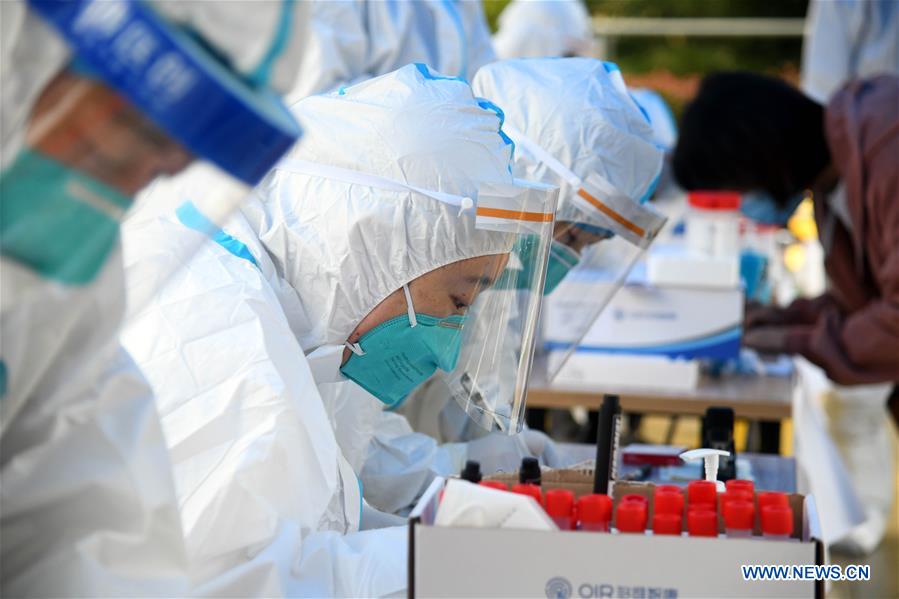 Over 4.06 million of the collected samples have been tested so far and, with the exception of the cases already reported, no new positive samples have been detected, the municipal health commission said.
Qingdao has a population of more than 11 million. The city has vowed to complete city-wide nucleic acid testing within five days starting from Monday.
Five cities in Shandong, including Zibo, Yantai and Rizhao, have joined hands with Qingdao to help conduct nucleic acid sampling and testing, and more than 1,200 people have been dispatched to the city to assist in testing, Chen Wansheng, an official with the municipal government, said Wednesday.
In total, more than 10,000 medics and 20,000 volunteers have joined in to facilitate the testing.
"The National Health Commission has urgently allocated 9,000 milliliters of convalescent plasma from recovered COVID-19 cases for the treatment of severe patients in Qingdao," Chen added.
A mixed testing approach has been adopted to improve efficiency, according to Zhang Huaqiang with the municipal health commission.
"If a 10-in-1 sample is positive, we will inform the 10 people to undergo separate isolation and testings to further identify carrier of the positive sample," said Zhang.
Qingdao has reported 12 new confirmed cases of COVID-19 since the virus re-emerged in the city over the weekend, the municipal health commission said.