5 Chinese still missing after Sri Lanka blasts
Global Times
1555954419000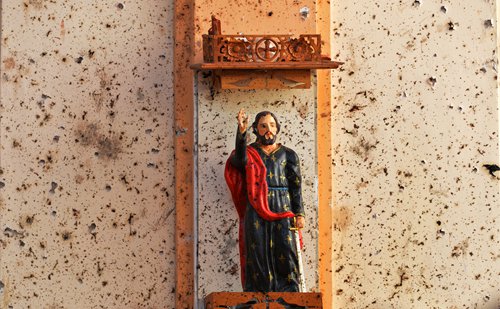 A statue is pictured next to shrapnel marks at St. Sebastian's Church in Negombo on Monday, a day after the building was hit as part of a series of bomb blasts targeting churches and luxury hotels in Sri Lanka. (Photo: AFP)
Five Chinese nationals remain missing after one Chinese died and five others were injured in the Sri Lanka blasts on Sunday that killed 290 people, said a spokesperson for China's Ministry of Foreign Affairs at a briefing on Monday.

Foreign Ministry spokesperson Lu Kang noted all the five injured Chinese nationals were in stable condition.

Previously two Chinese nationals were reportedly dead. However, the Chinese Embassy in Sri Lanka said Monday that there was only one Chinese person killed from the blast and five injured, the Xinhua News Agency reported on Monday.

Three male and two female research fellows from the South China Sea Institute of Oceanology, a branch of the Chinese Academy of Sciences, were injured in the Kingsbury Hotel explosion, with two suffering serious injuries and three suffering minor injuries, Zhang Xudong, president of the Sri Lanka Overseas Chinese Association, told the Global Times on Monday.

The researchers were in Sri Lanka to participate in an institute event about Indian Ocean voyaging.

The ministry and the Chinese Embassy in Sri Lanka are searching for missing Chinese nationals, verifying Chinese victims and sending officials to visit the injured, Lu said.

Four Chinese research fellows from The First Institute of Oceanography of the South Ocean Administration are still missing after the explosion.

"We are still looking for five missing Chinese including the four research fellows and another one who we cannot confirm the identity," Zhang said.

Meanwhile, another bomb exploded in a van on Monday as bomb squad officers were trying to defuse it near a church in Sri Lanka, Reuters reported.

The explosions have made many companies close including Chinese restaurants and enterprises, said a Sri Lanka-based correspondent.

Locals have stayed indoors, afraid to go out, the correspondent said. "Many police officers are on guard outside, especially at mosques, to secure public security," he said.

The Sri Lankan government believes the National Thowheeth Jama'ath, an Islamist extremist group, was behind the deadly suicide bomb attacks, government spokesman Rajitha Senaratne said Sunday, according to AFP.

Terrorist attacks on Western countries tended to take the form of an individual committing atrocities while attacks in Asian counties involved groups of people, said Li Wei, a counter-terrorism expert at the China Institute of Contemporary International Relations in Beijing.

The situation faced by developing countries was more complicated and their ability to counter terrorism was relatively weak, Li noted.

This prompted mass terrorist attacks organized in groups, according to Li. Some religious contradictions in Asian countries such as Sri Lanka could also lead to "large and serial activities," he said.

"We should not wait until terrorist organization activities occur, but prevent extremism from being ideological and I think China has done a good job in controlling extreme religious thoughts," said Li.