China's largest-ever survey on snow leopards near completion
People's Daily app
1509002180000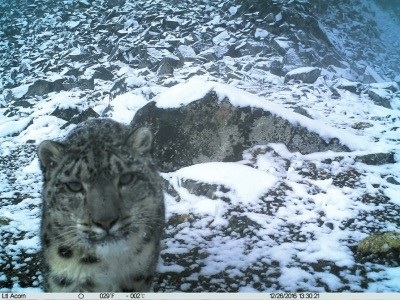 A photo of a snow leopard captured at the Wolong National Nature Reserve last winter. Photo: Wolong National Nature Reserve
Chengdu-China is about to complete its biggest-ever survey on snow leopards living in Wolong National Nature Reserve, southwest Sichuan Province as the annual International Snow Leopard Day fell on Oct. 23.
At least 9 snow leopards have been observed at the reserve's Qianliang Mountain observation point, a 120-square kilometer area with an altitude of 4,000 to 5,700 meters, said Shi Xiaogang, the main initiator of the survey and the head of the Mujiangping protection station at the Wolong National Nature Reserve.
Starting from late 2016, the largest-ever survey conducted by China has captured over 500 photos of the creatures by hundreds of infrared cameras arranged at the reserve.
Given the fact that the average density of snow leopard in China is normally 0.5 to 0.6 per 100 square kilometers, the Wolong protection base might have the highest density of snow leopard distribution in southwest China. It is also the closest "hot spot" for snow leopard from a metropolis with over 10 million people.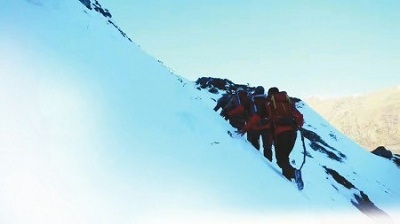 Shi Xiaogang, initiator of China's largest-ever survey on snow leopards, and his team are looking for trace of the creatures, risking their lives at the snowline. Photo: Wolong National Nature Reserve
Compared with their peers inhabiting in Qinghai Province, snow leopards in Sichuan move in a relatively smaller sphere. Snow leopards usually have their daily activity within 50 to 100 square kilometers, but at least three leopard families have been spotted in the 120-square kilometer zone in Qianliang Mountain, Shi added.
"They don't have to travel a long distance to obtain enough food thanks to the well-reserved ecology of the region," said Shi.
Snow leopards stand at the top of the food chain among alpine species. Studies have proved that the existence of the creatures in high mountainous areas is a sign of complete ecological system and abundant biodiversity.
"There are too many research blanks in global studies of snow leopard," Shi told the People's Daily, adding that China is home to 60% of the snow leopard's habitat, but accurate number of the creatures has not been figured out so far.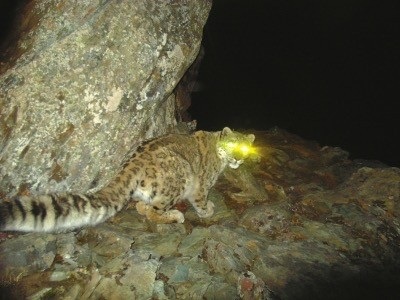 The infrared camera installed at Wolong National Nature Reserve, southwest China's Sichuan Province, captured the first photo of a snow leopard at the beginning of 2009. Photo: Wolong National Nature Reserve