Xi meets Lao family, recalls time-honored friendship
Global Times
1510691406000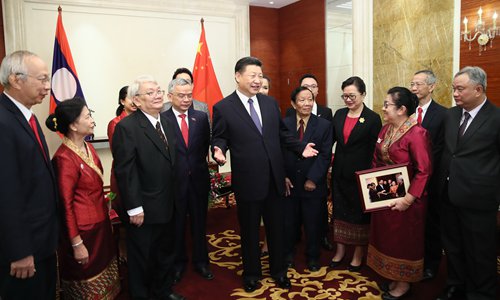 Chinese President Xi Jinping meets Pholsena's family members in Vientiane on Tuesday. Photo: Xinhua
Chinese President Xi Jinping met Tuesday members of a Lao family with a time-honored friendship with China, urging the young generation to carry on the friendly ties between the two countries.

Stories about the friendship between China and the family of Quinim Pholsena are widely known, Xi told the descendants of the late Lao official, some of whom once studied with Xi at Beijing Bayi School.
Eight of the 12 Pholsena children left Laos for China after their father, Quinim Pholsena, a former foreign minister of Laos, was assassinated in 1963.
The Chinese president said he is delighted to reunite once again with old schoolmates and old friends.
Laos is an "iron friend" of China, Xi said, adding that he and Lao leaders reached new important consensus on deepening bilateral cooperation and building a community of shared future with strategic significance.
He pinned high hopes on the young generation of the Pholsena family, stressing that the youth represents the hope of the socialist causes of both countries and the future of the China-Laos friendship.
The Pholsenas, excited to meet Xi, congratulated him on being re-elected general secretary of the CPC Central Committee, saying that as Xi's former schoolmates they have always closely followed China's development.
"This is my third time to meet President Xi. He is a very lovely person, very easygoing. During our meeting in June 2010, he asked about our mother. We were very touched. Some of us cried," one of the Pholsena sisters said after the meeting with Xi.
She said Xi still remembers what the Pholsena children used to wear in school and other details from their school days.
Sommad Pholsena, Minister of Natural Resources and Environment and also a member of the Pholsena family, said earlier upon receiving the Lao edition of Xi Jinping: The Governance of China, that Laos is also in a period of revolutionary development and shares the same ideals and social system with China. "Laos is eager to learn from China's experience on governance."
Greater cooperation
Xi also met with Lao Prime Minister Thongloun Sisoulith and President of the Lao National Assembly Pany Yathotu on Tuesday before concluding his state visit.
Xi and Lao President Bounnhang Vorachit on Monday witnessed the signing of seven cooperation agreements, including a memorandum of understanding (MOU) on the building of a China-Laos economic corridor, science and technology cooperation agreement, an MOU on human resource development cooperation, and an MOU on financial cooperation for the promotion of small- and medium-sized enterprises in Laos.
A joint investment agreement for the construction of the Vientiane-Vangvieng expressway was also signed. Experts noted the significance of the China-Laos economic corridor, a new term brought up during Xi's visit.
Somchith Souksavath, a professor at the National University of Laos, told the Global Times on Tuesday that the China-Laos economic corridor, which is based on the China-Laos Railway, will create more jobs for Chinese and Lao workers and boost Laos' capital inflow.
"Trade between the two countries will be increased, creating more income for both sides by using their comparative advantage of their production and skills," Souksavath said.
"I think the completion of the railway will improve Laos' transport infrastructure, facilitate exchanges between peoples of the two countries, and promote tourism."