Young student starts a sex ed program for her peers
Global Times
1512090204000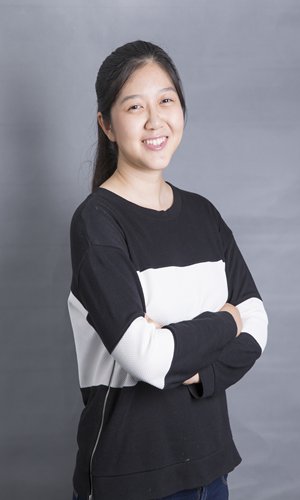 Yao Sifan is working to raise awareness of the need for sex education in China. Photo: Courtesy of Yao Sifan
When Yao Sifan was a child she would ask her mother where babies came from and always got the same answer, "You will know when you grow up." She says she never had sex education classes at school, and it wasn't until she was 15 that she accidently got a rude awakening.
She was surfing the Internet, clicking on pop-up advertisements. Curiosity drove her to click on a video of people having sex. She felt her adrenalin rise, heartbeat quicken and a lot embarrassment.
A year later, she co-created a sex education platform on popular messaging app WeChat with eight other high schoolers in Beijing. Now 18, Yao attends college in Singapore but still runs the WeChat public account teaching young people about the facts of life. She posts articles telling girls and boys there is no shame in bodily functions such as menstruation and masturbation. She has posted advice on how to fend off molesters on the subway.
Advertising sex education
While still in high school, Yao took part in China Thinks Big innovation contest by Harvard University in China. It asked students to develop a project that can bring positive changes to society and present it to a panel of judges.
Yao decided to make sex education her project. She asked around to see how much people her age knew about the subject, and the result was shocking. One young person thought the color of menstrual blood is blue because "TV commercials for pads use blue fluids." A young peer of Yao's got pregnant because she didn't take prevention measures and had decided to just use abortion as a form of birth control because advertisements were everywhere.
That was when she started her WeChat platform called "Little Wings" with her eight high school friends. The name of the group is slang for menstrual pads in China, but also connotes being free and light. "We hope we can alleviate people's feeling of shame when it comes to sex, so the wings can no longer hide," they wrote in their introduction to their WeChat group.
How to provide authoritative and correct information was the first challenge. Yao started reading a lot of information online. She searched for NGOs that offer sex education and asked for help. The China office of international organization Marie Stopes responded within a day and provided a lot of resources.
Meanwhile, Yao's group realized they needed to use methods that young people are familiar with. The cousin of one of the members could draw cartoons, so Yao asked her to design posts and clips with light and funny themes. They also posted videos.
Gradually, the topics of discussion widened to include articles on menstruation, masturbation and how to protect oneself during sex.
Hidden from parents
Despite her public openness on the subject of sex, Yao has never told her parents about her advocacy. She is still worried about what they might say.
"I feel conflicted from time to time. I have been working so hard to make changes, why should I be ashamed of letting them know? But I didn't know what to expect from them," she said. "So, I have decided to just let it be. If they find out, I will tell them about it. A teacher of mine once said, 'It is easier to seek forgiveness than beg for permission.'"
She has had her share of detractors from the adult world. After the WeChat platform started receiving attention, some people started questioning her ability to discuss the subject. "You must be very experienced if you are teaching sex education," read one offensive comment with a double meaning. While she was on a talk show, the host declared she was too young to talk about sex education, considering she was not yet in college.
A member of her group accidentally shared a link with her family, and was told by relatives in no uncertain terms to "stay away from sex." One by one members of her group became less active.
"You should not have to wait until the moment you have sex to learn sex education. There are so many ways to gain knowledge nowadays, why cannot we get proper sex education?" she said.
A long way to go
Yao's team won first place at the Harvard innovation contest. She was surprised, considering she talked back to the judges.
During her final pitch, one of the judges, a senior expert at the Peking University Hospital, asked her why China cannot just copy Europe's sex education system.
"The situation is different in China," she said. "Parents usually freak out when they hear talk about masturbation, how can we have their curriculum?"
During her interview with the Global Times, she reflected on the recent sexual assault allegations that have been leveled against a Beijing kindergarten and worried about the children being called liars.
"I was sexually assaulted when I was young, but at that time I didn't know what it was," she said. Yao said she still feels uncomfortable talking about the experience and few people in her life know about it. She says the incident motivates her and hopes society will embrace sex education.
In the future, she hopes to present sex education in a more professional and fun way, such as using short videos to show concepts.
"I hope to reach more people by using these ways, and hopefully gradually change the views of more people about the need for sex education," she said.