'1+6' talks highlight need for global unity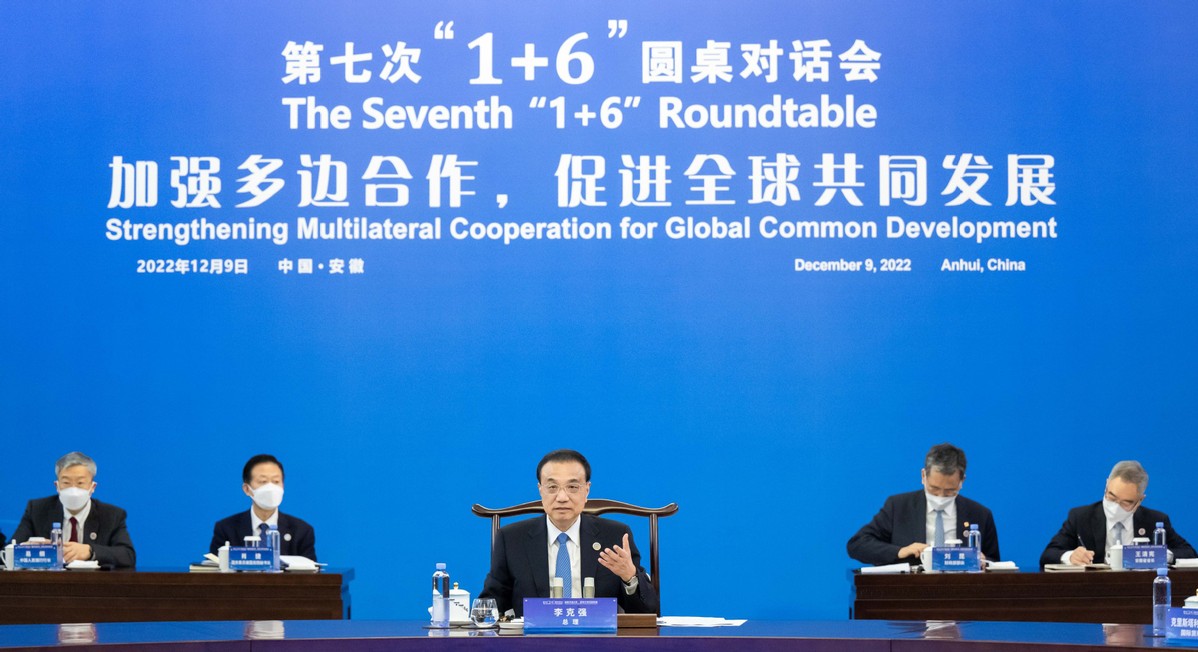 Participants in the Seventh "1+6" Roundtable have agreed on the importance of working together and staying on the path of multilateral and international cooperation to address the many severe challenges facing the global economy today.

They also expressed opposition to decoupling or fragmentation of global trade, saying that it will be costly for the world.
The roundtable, held in Huangshan, Anhui province, under the theme of "Strengthening Multilateral Cooperation for Global Common Development", was the first in-person one since the start of the COVID-19 pandemic.
Discussions were held between Premier Li Keqiang and the heads of six major international economic organizations, including the World Bank, the International Monetary Fund and the World Trade Organization.
"We held this roundtable to show our commitment to safeguarding multilateral cooperation and to shore up confidence in global development," Li told reporters at a news conference after the meeting.
The IMF's World Economic Outlook, released in October, forecasts that global growth will slow from 6 percent in 2021 to 3.2 percent in 2022 and 2.7 percent in 2023.
Noting that many countries face challenges such as high inflation and problems in food and energy security, Li said it remains important not to slow the steps in building a more open world economy.
As a beneficiary and promoter of global opening-up, China firmly supports the steady growth of the global economy in the process of opening-up, he said, and the country will also continue to advance high-quality opening-up and steadily expand institutional opening-up.
"We welcome businesses from all countries to expand trade with their Chinese partners and we welcome more foreign companies to come to China for investment and operation," Li said.
According to the premier, China's economy has made an extraordinary journey this year, in particular with the impact of COVID-19 and other factors beyond expectation.
After the adoption of a package of policies, the economy has been picking up and now maintains overall stability, he said.
"Going forward, we will take further measures to keep transportation and logistics open, ensure secure industrial and supply chains, and facilitate international travel and people-to-people exchanges," Li said.
Starting in 2016, the "1+6" Roundtable has been held for seven consecutive years. Its purpose is to show to the world that China is taking concrete actions to promote global opening-up, Li said.
IMF Managing Director Kristalina Georgieva noted the importance of strengthening multilateral cooperation during these particularly challenging times, saying that the world economy today is like "a boat in rough waters".
"We can only bring our boat safely to shore if we all row together in the same direction," she said.
Ngozi Okonjo-Iweala, director-general of the WTO, said that it is estimated that if the world were to fragment into two trading blocs, it would result in a 5 percent loss in global GDP in the longer term.