HKSAR gov't to spend 19.1 bln HKD on relief measures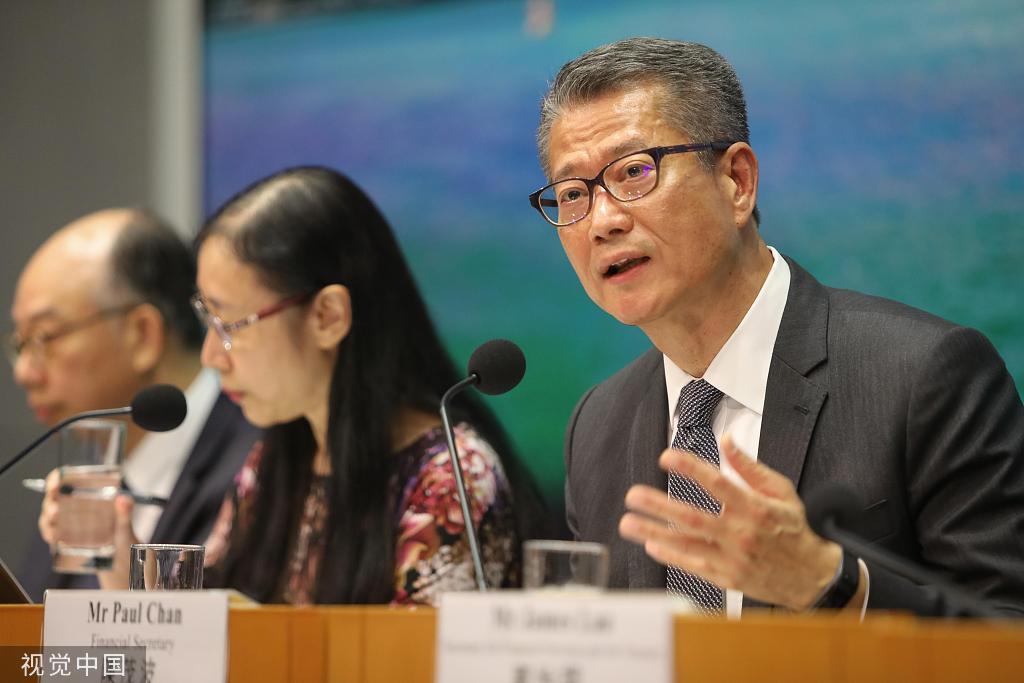 Paul Chan (R), the financial secretary of China's Hong Kong Special Administrative Region (HKSAR) government. (File photo: VCG)
HONG KONG -- Paul Chan, the financial secretary of China's Hong Kong Special Administrative Region (HKSAR) government, announced on Thursday a package of measures to support enterprises and relieve people's financial burden, which will cost a total of about 19.1 billion HK dollars (about $2.4 billion).
Speaking at a press briefing, Chan said that the risk of Hong Kong experiencing an economy downturn is significantly rising in face of internal and external difficulties. Therefore, the SAR government must revise downward the real growth forecast for the economy in 2019 as a whole to 0 percent to 1 percent.
Externally, the global economic outlook is darkened by high uncertainties, including the escalation of trade tensions, imminent risk of a hard Brexit and sluggish industrial and trading activities in Asia. Hong Kong's import and export trades, logistics and related sectors will continue to face a difficult environment against this background, Chan said.
Domestically, the recent social incidents have hit the retail trade, restaurants and tourism, adding a further blow to an already-weak economy, Chan said.
To assist small and medium enterprises (SMEs) to cope with the operating pressure in the current economic environment, 27 groups of government fees and charges will be waived for 12 months to benefit a wide range of sectors from maritime, logistics, retail, catering, tourism, construction, to agriculture and fisheries, Chan said.
Further to the proposal in the 2019-20 Budget to reduce salaries tax, tax under personal assessment and profits tax for the Year of Assessment 2018/19 by 75 percent, the reduction will be increased to 100 percent. About 1.43 million taxpayers will benefit from a further saving of 1.84 billion HK dollars, the financial secretary said.
The government will provide a subsidy to kindergarten, primary and secondary school students in Hong Kong at 2,500 HK dollars per head in the 2019/20 school year to alleviate parents' financial burden in defraying education expenses. This will benefit over 900,000 students, he said.
As for social security recipients, an extra allowance equal to one month of the standard rate Comprehensive Social Security Assistance payments, Old Age Allowance, Old Age Living Allowance or Disability Allowance will be provided, according to him.
Other measures included providing one-off electricity charge subsidy of 2,000 HK dollars to each residential electricity account, and paying one month's rent for lower income tenants living in the public rental units, he said.
"Relevant bureaux and departments will follow up on the implementation of the above package of measures in full speed so that the enterprises, especially SMEs, and the public can benefit early," said Chan.