B&R needs broader support
Global Times
1527547830000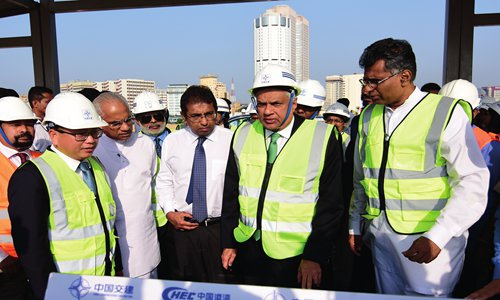 Wickremesinghe inspects the Port City project in Colombo, an infrastructure project co-developed by China and Sri Lanka, in January. (Photo: VCG)
China may have proposed the Belt and Road (B&R) initiative but the aim is for it to involve many countries, experts said on Sunday, with more diversified investors as well as financial institutions expected to play a bigger role in bridging the funding gaps in B&R projects.
Five years have passed since China first proposed the B&R initiative in Kazakhstan, and China has seen growing trade and investment with countries and regions along the routes of the initiative.

For instance, the country's new outbound investment in 52 countries along the routes increased by 22.4 percent year-on-year in the first quarter of 2018, rising to $3.61 billion according to official data.

However, there have been complaints about China's problems with funding for B&R projects.

The Chinese government has promised $1 trillion worth of infrastructure investment under the B&R. But the funding for transportation projects stood at $90 billion between 2014 and 2017, the Asia Times reported on May 18, citing data from the Center for Strategic and International Studies (CSIS). Also, the CSIS noted in an earlier study that China's $1 trillion promise may not be met for several years.

It is a misunderstanding to assume that the Chinese government alone will take responsibility for B&R investment, Huang Rihan, executive director of the Belt and Road Institute at the Center for China and Globalization, told the Global Times on Sunday.

"B&R projects follow rules of wide consultation and open negotiations, which aim to bring joint benefits for all parties involved," he said.

The projects, which should become profitable not only for Chinese investors but also for local operators, cannot be subsidized solely by the Chinese government, Huang noted. "They're market-driven projects," he noted.

The G20-backed Global Infrastructure Hub forecast in a report released in July 2017 that the cost to close infrastructure gaps will reach $94 trillion by 2040, and every year $3.7 trillion will need to be invested in infrastructure to meet the demands of the growing global population.

"Considering this huge gap worldwide, it is a common situation for countries to face financing shortages in infrastructure projects," Xiang Junyong, an expert at the Chongyang Institute for Financial Studies at Renmin University of China, told the Global Times on Sunday. "The B&R aims to expand financing channels for infrastructure projects and bring in more diversified investors," he said.

More active players

The Silk Road Fund (SRF) and multilateral financial institutions such as the Asian Infrastructure Investment Bank and the New Development Bank currently constitute major sources of financing for B&R projects, Xiang noted. "Also, some Chinese companies have been seeking more funding on their own. For example, State Grid issued bonds to support its power projects in Brazil," he said.

Still, a financing mechanism supported by various players has to be further improved, Xiang noted. "For instance, the Asian Financial Cooperation Association should play a more active role in attracting various investors such as commercial banks and insurance companies to B&R projects, and certain funds under the SRF should also be rechanneled to areas where the need is greater," he said.

In addition, many countries along the routes are heavily in debt, and their liability ratios are beyond global warning levels, which dampens the outlook for raising more funds, the South China Morning Post reported in April.

"In this case, China-led projects could be seen as examples for some less-developed markets, and then more players such as private and institutional investors would follow in their steps," Xiang noted.