US coverage of HK protests out of proportion
chinadaily.com.cn
1576118584000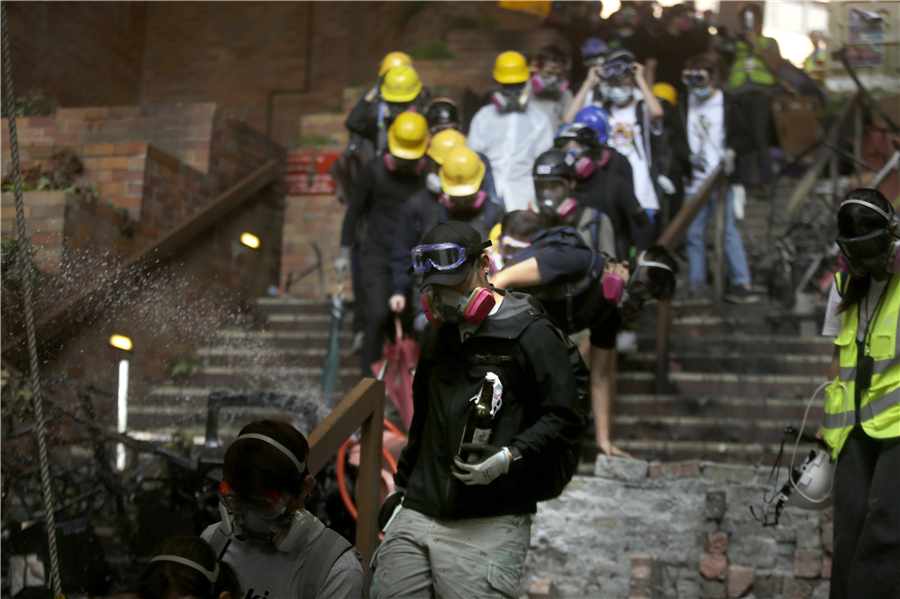 A rioter walks down the stairs with a gasoline bomb at Hong Kong Polytechnic University, on Nov 18, 2019. (Photo: Agencies)
US media have produced biased and uneven coverage of recent global protests, as they have given a disproportionate amount of attention to the anti-government protests in Hong Kong while ignoring the violent nature of those protests, according to a study by an American media watchdog group.
Meanwhile, the American media have almost universally called Hong Kong's violent protests "pro-democracy", while protests in other parts of the world have been referred to as "riots" or "violent protests".
In the opinion of local political pundit Song Sio-chong, the American mainstream media have given extra attention to what has happened in Hong Kong because the US wants to use Hong Kong to contain China.
A recent study by the US-based Fairness and Accuracy in Reporting (FAIR) said that Hong Kong's protests have gained extensive and favorable coverage because the protests in nature are anti-China, which is a shared aspiration of the US as China is "an official enemy of the US".
Alan MacLeod, an analyst for FAIR, found US media have produced far more stories on Hong Kong protests than it has for those in other countries — a conclusion he reached after conducting a study on the coverage of major US media on four important protest movements around the world.
The New York Times and CNN have produced a combined 737 stories on the Hong Kong protests, 36 on Chile, 28 on Haiti and 12 on Ecuador since each country's protest began.
However, the Haitian protests have been raging for twice as long as Hong Kong's, and 42 Haitians have been killed in the last two months alone, yet Hong Kong has received more than 50 times the attention Haiti has.
Moreover, the protests in these South American countries were often merely mentioned in "protests around the world" roundup articles, despite the fact that they received severe repression, with at least eight dead in Ecuador, while 26 have died and over 26,000 have been arrested in Chile. In contrast, no one has died at the hands of the Hong Kong security forces, the study said.
The study also revealed that demonstrators in Hong Kong are always referred to as "pro-democracy protesters", whereas the protests rocking Chile are commonly denigrated as "riots" or "looting and arson".
The US media have insisted on describing the militants in Hong Kong as "pro-democracy activists" even though its reporters also describe seeing the rebels producing "hundreds or thousands of bombs" and a radical dousing a man in flammable liquid and setting him alight.
The study said that the reports on Hong Kong protests "presented the situation in lockstep single-mindedness" because they seldom showed diversity of opinion although the real situation is much more nuanced.
In response, Song — a professor at the Research Center of Hong Kong and Macao Basic Law at Shenzhen University — said that by labeling the protests as "pro-democracy" and glorifying the violence, the US media have incited the Hong Kong radicals.
This would render Hong Kong in incessant chaos and an unstable condition — something that would be convenient for the US in its efforts to contain China, Song said.
Ever since the US announced its "Asia pivot" policy eight years ago and gradually carried out strategies to contain China, Hong Kong has become a battleground with the US in its competition with China, he added.
The coverage by mainstream media also helps the US government justify its actions to place possible sanctions on China, Song continued.
The US government approved a law last month that mandates an annual review of Hong Kong's independent trade status — a move deemed as unseemly intervention in the city's internal affair by the Hong Kong SAR government and the city's business sectors.