Authorities launch steps to boost international freight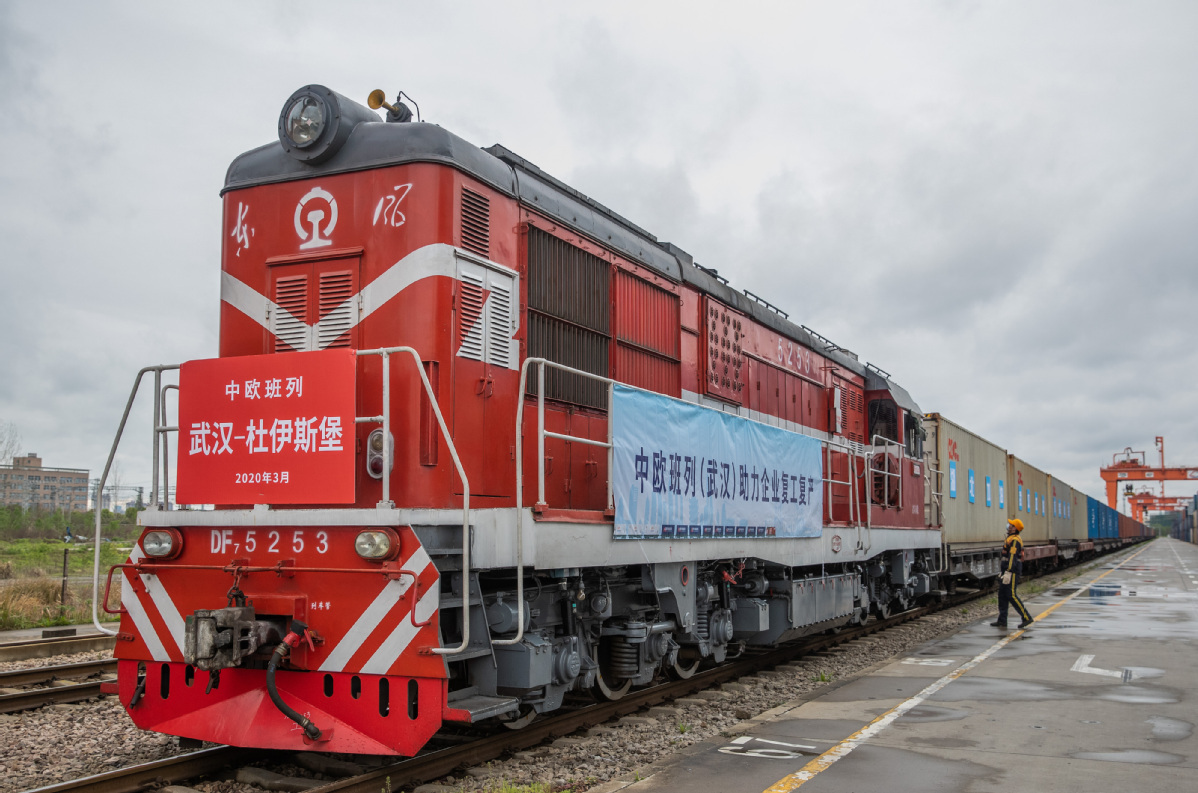 A cargo train bound for Duisburg in Germany leaves Wuhan, capital of Hubei province, on March 28, 2020. (Photo: China Daily)
Transport departments in China are taking measures to increase the international freight transport capacity and ensure the stable operation of China-Europe Railway Express, according to senior transport officials.
Affected by the COVID-19 pandemic across the world, backlogs have occurred in international freight, and difficulties in the shipping of some production and consumption goods, as well as medical supplies, have risen, said Li Tianbi, safety director of the Ministry of Transport, at a press conference held in Beijing on Saturday.
Under such circumstances, a task force consisting of staff members from 12 departments, including the ministries of transport, foreign affairs, commerce and industry and information technology, has been set up to address the problems, he said.
"Thanks to the efforts of the task force, China Post has cooperated with China Shipping Company to ship freight by sea and China Cosco Shipping Corporation Ltd has transported some freight containers to countries including Japan, New Zealand and Israel," Li said, adding that more routes will be opened to increase the transport volume.
Other ways of increasing volume include encouraging airlines to transport freight on passenger aircraft and ensuring the capacity of China-Europe Railway Express, he said.
To guarantee the operation of China-Europe rail during the COVID-19 outbreak, a digital system has been developed to exchange information with the customs at Manzhouli of Inner Mongolia autonomous region, one of the land ports alongside the rail, so that a paperless working style cab be achieved in the clearance, Zhao Jun, director of China Railway's freight transport department, said at the press conference.
He noted that China Railway streamlined the departing procedures for the rail to reduce the number of staff members working at the port and improve working efficiency, adding that China Railway also kept contact with local governments and railway departments of countries alongside the rail to solve problems in a timely manner and make sure the rail express is working in good condition.
"So far, the five land ports alongside the rail, including Manzhouli, are doing well and the China-Europe Railway Express is running well in countries such as Russia, Belarus, Poland and Germany," Zhao said.