Guideline to help prepare newlyweds for marital life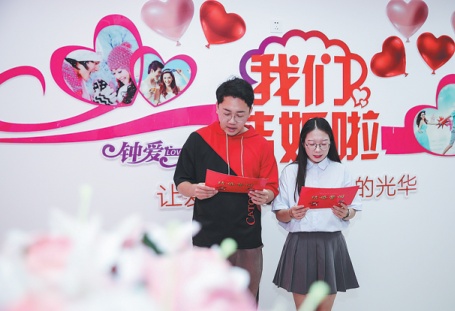 Newlyweds read their wedding vows after getting their marriage certificates in Huai'an, Jiangsu province, on Aug 25. (Photo: China Daily)
Local authorities in China have been asked to compile teaching materials and roll out tutoring sessions aimed at preparing young couples for married life and to introduce more ceremonial elements to the taking of vows and issuing of certificates at marriage registrars, the Ministry of Civil Affairs said on Tuesday.
The move is aimed at teaching soon-to-be newlyweds how to manage and prevent marital crises. It is part of a broader effort by central authorities to enhance marital happiness and help build relationships that are "equal, harmonious and civil", according to a guideline jointly released by the ministry and the All-China Women's Federation.
The premarital tutoring will cover marriage culture, family responsibility, communication skills, family development plans and other areas, and will be conducted in communities, on campuses and at workplaces, the guideline said.
"The policy has good intentions as marital success lies in management," said Zhang Jing, a Beijing-based researcher on marriage and family issues.
Zhang said tutoring is essential as it helps those about to wed to reexamine their intentions and equips them with the communication skills needed to help prevent friction. But she expressed only cautious optimism about the move's effectiveness.
"The compilation of teaching materials requires expertise in education, social work, psychology and law, and the compilers should try to remain neutral and not include too many of their personal values," she said.
The guideline also asks marriage registrars to hold ceremonies when they issue certificates and when brides and grooms take their vows to emphasize the importance of family responsibilities.
They should also explore effective ways to intervene in faltering relationships and provide support during the cooling-off period before a divorce is granted, it said.
Authorities will be encouraged to contract with professional organizations for services.
Wan Fei, a retired police officer in Hubei province who founded the Under the Blue Sky Women and Children's Rights Association, a domestic violence concern group, said the sessions could help young couples learn about managing their emotions, crucial in keeping friction from escalating into violence.
Proper intervention during the cooling-off period could facilitate a peaceful breakup, he said.
"There have been lots of violent crimes that can be traced back to poorly negotiated breakups or divorces," Wan added.
China's divorce rate has been rising in recent decades, with 3.2 divorces taking place for every 1,000 people in 2018, according to the National Bureau of Statistics, up from 1.85 per 1,000 in 2009.
Central authorities have increasingly stressed the role the family plays in social governance.
While speaking at a gathering ahead of Lunar New Year in 2015, a time marked by family reunions, President Xi Jinping called the family the basic unit of society, and the first school that people attend.
Zhang said broken marriages and irresponsible parenting have made life even more difficult for children in single-parent families and those left behind in rural areas by parents who have moved away to work in cities.
Huang Dong, a lawyer with Beijing Yingke Law Firm's bureau in Guangzhou, Guangdong province, said marriage failures can have wide-ranging effects, with children usually the first to bear the brunt.
"A broken family can have a lasting influence on kids, and rebellious teenagers and juvenile offenders are often considered an aftereffect of a failed marriage," he said.