Rural senior service brightens lives
A red motorcycle speeds through vast fields covered in blossoms, adding brightness and vigor to the dazzling spring scenery. Li Jiuquan, its 54-year-old rider, is on his way to visit a nearby senior.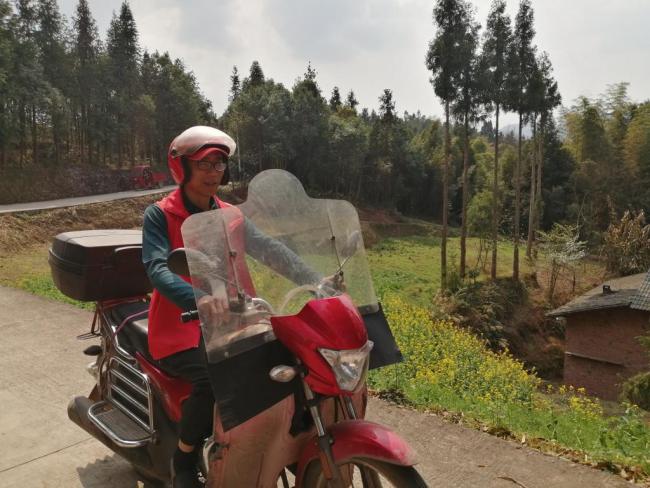 Li is a member of a group that takes care of disadvantaged rural seniors, most of whom do not have children and face financial difficulties.

His main task is to visit the senior once a month and help with things such as haircuts and pedicures, or sometimes just to chat.
Living alone in Yongle village, located in Qijiang district in Southwest China's Chongqing, 62-year-old Xu Wenzhi is always happy to see Li coming. "Without him, I have to walk miles to the barber shop, which is exhausting. He makes things easier, and I also have someone to talk to," said Xu, who has lung cancer and no children.
As disadvantaged seniors can receive a monthly subsidy of 800 yuan ($125) and don't have to worry about food and clothing, rural eldercare services need to shift their focus from material to psychological needs, said Chen Li, deputy director of the Qijiang Civil Affairs Bureau.
The group was started in January last year under the bureau's guidance to provide companionship to seniors who choose to live independently rather than at government-funded nursing homes. About 40 minutes later, Li Jiuquan logged into an app to record what he'd done.
There are 18 categories of service, but he normally does more for the 100 seniors he has taken care of, including helping them celebrate birthdays and buy daily necessities.
He said he does not consider his job troublesome and is more than happy to help. Unlike the previous jobs he did in big cities, this one allows him to work in his hometown and "find a sense of belonging and fulfillment".
"I feel more emotionally bonded to my hometown, and I have found a balance between work and family," he said. He brings in 3,000 yuan a month, and the job includes welfare.
There are more than 80 members in the group. All are local residents, and some are couples or siblings. Cooperation makes the services more efficient.
For Chen, the group has another benefit. "As they're being taken care of, the elderly share their difficulties with the staff, so this service offers a window for the government to address their concerns," Chen said. From January last year to February, Qijiang served 5,000 disadvantaged rural seniors 57,000 times, according to data released by the bureau.