Famous Chinese writer's former home worth a visit
People's Daily app
1515656020000
An art teacher from Tongchuan, a city in the middle of Shaanxi Province, became popular online for making a snow sculpture of Lu Xun for his son. He wanted to appreciate his college teachers' devotion to the school, as what Lu Xun did for China's revolutionary career.
Born on September 5, 1881 in Shaoxing in east China's Zhejiang Province, Lu Xun was a Chinese writer, thinker and revolutionary, and he had contributed to the research and expansion of humanistic ideas during the early 20th century.
Due to constant conflicts and unrest in Lu's era, he resided in multiple places, three of which were developed into museums or cultural sites.
◆Zhejiang
Childhood and adolescence
"Not alone the green vegetable plots, the slippery stone coping round the well, the tall acacia trees, purple mulberries ……" An abstract from Lu's prose Baicao Garden and Sanwei Study.
Lu was born into a downfallen scholar-bureaucratic family, spending his childhood and adolescence in the Xin Tai Men where most of Zhou's family lived.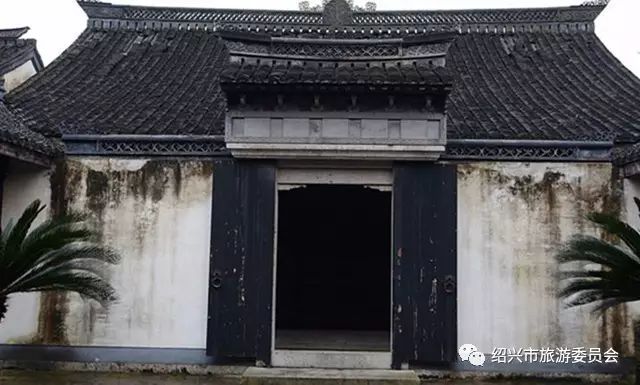 Xin Tai Men, where Lu was born. (From the Shaoxing Tourism Committee)
Lu lived on the second floor where his mother often taught him traditional Chinese characters and made him recite the classics and ancient Chinese prose. Sometimes he went downstairs into the kitchen to enjoy the tales of Chang Mama, his nanny.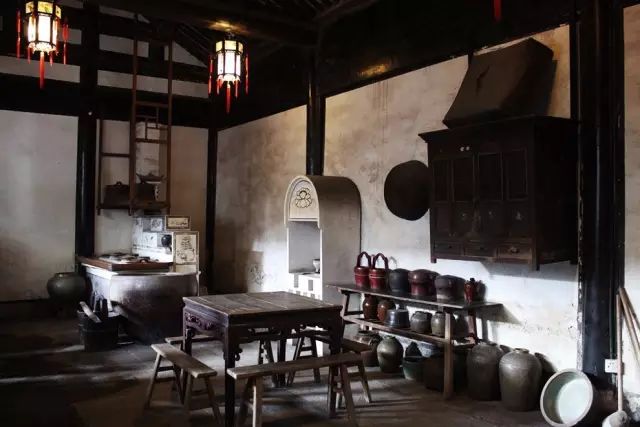 One corner of the kitchen.(File Photo)
Yet the most impressive time in Lu's childhood, or even in most of Chinese middle school students' memories, was Zhou family's backyard—Baicao Garden. The famous prose Baicao Garden and Sanwei Study, which was included in Chinese middle school textbooks, vividly depicts what life was like when he was a child.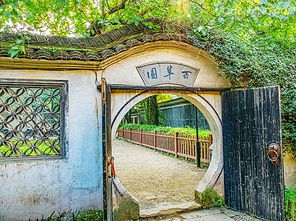 Baicao Garden.(File Photo)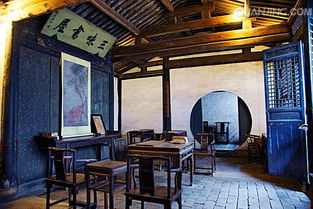 Sanwei Study.(File photo)
Outside the garden, over a bridge, was the Sanwei Study where Lu received his formal education. He worked hard and achieved good grades in class. Yet Zhou's family fell on bad times when he was 14. As the eldest son, he started supporting his family. From then on, he cultivated himself into a dedicated and determined man.
◆Beijing
Career peak
"Small, yet many shining humanistic ideas and famous works were produced here." the late premier Zhou Enlai said on Lu's residence in Beijing.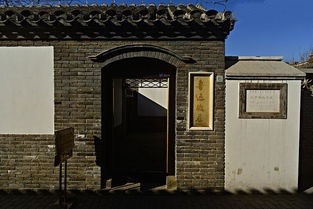 The entrance to Lu's former residence in Beijing. (File Photo)
Lu came to Beijing in May 1912 and moved three times. In May 1924, Lu moved into the No. 21 compound at Fuchengmen's Lane 3, and lived there until he settled down in Shanghai in 1928. It was a typical residential compound of Old Beijing, and all the houses here were designed by Lu himself in the spring of 1924.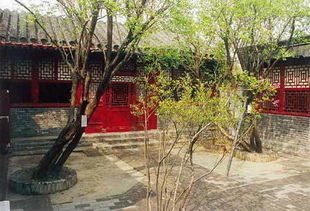 One side of Lu's former residence in Beijing. (File Photo)
Lu reached the peak of his literary career in Beijing. He wrote A Madman's Diary, Kong Yiji, and Medicine, and published his first novel collection Call to Arms, and produced more than 200 acclaimed works, including the poem Wild Grass, and the essay collections Hua Gai and Wandering.
Lu also enjoyed planting and cultivated trees and flowers in the backyard. In spring, group warbler flying, red peach, white pear and yellow Forsythia dotted the trees.
◆Shanghai
Family fun and the last days
"Tap water, electricity and gas were available here in the 1930s." said one director of Lu Xun's former residence museum.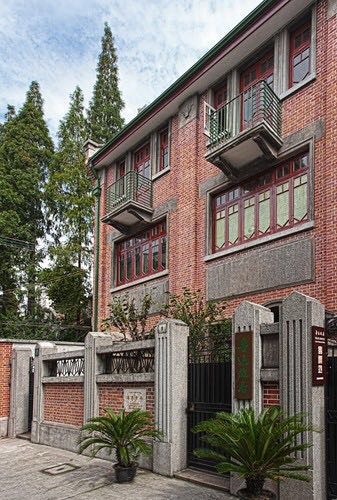 Lu's residence in Shanghai.(File Photo)
Lu's family moved to No. 9 New Continental Village, Shanyin Road, after the birth of his son Zhou Haiying, and also to avoid being arrested. The red brick and tile house is a three-story building with a floor area of 222.72 square meters.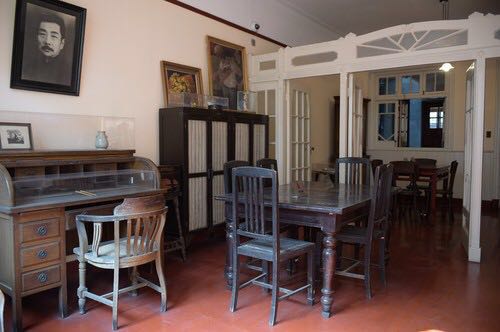 The reception on the first floor. (File Photo)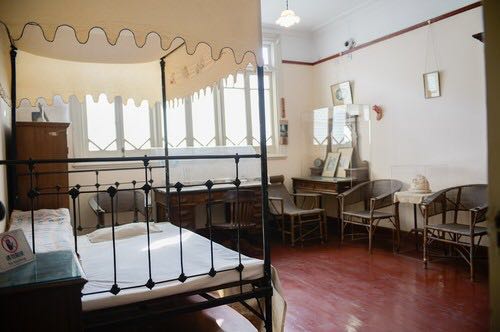 Lu's bedroom and study on the second floor. (File Photo)
The front area of the first floor is a reception room and the back a dining room. The second floor was Lu's bedroom and study.
Lu usually worked deep into the night. When everyone was asleep, he would make a cup of strong tea and cover it with thick cloth to keep warm, then started writing until dawn.
A clock on the table reads 5:25 PM, the time when he passed away on October 19, 1936.