Chinese American entrepreneur to be honored by leading US music organization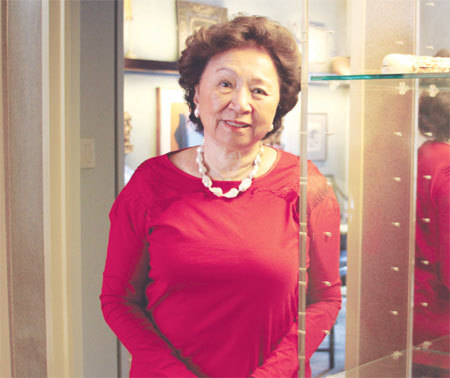 Shirley Young in her office in New York. (File photo: China Daily)
NEW YORK -- Shirley Young, a distinguished Chinese American entrepreneur, is to be honored by the Chamber Music Society (CMS) of Lincoln Center at its 50th anniversary celebrations next week.
"CMS has over the years been tremendously committed to bringing chamber music to different places around the world. We have been very lucky to engage with a lot of people who have been able to help us do that. The most important person for us of course in China is Shirley Young," said Suzanne Davidson, CMS executive director, in a press release.
Young, who has helped CMS to build a presence in China in the last five years, is the first Chinese American to receive this honor. The other honoree at the event, to be held on Sept 10, is Elinor L. Hoover, chair of CMS board of directors.
The upcoming celebration, which is moved online due to the pandemic, will witness the global premiere of a 53-minute documentary film "Transcending: The Chamber Music Society of Lincoln Center Celebrates 50 Years".
After 50 years, CMS of Lincoln Center is recognized as an acclaimed leader in chamber music in the world and it can help develop chamber music in China, said Young.
"This will offer new opportunities for the many Chinese musicians, particularly young musicians, to develop in a new art form to reach world audience," she said.
Young's China market experience has been accumulated since 1988 when she served as vice president of General Motors and co-led GM's successful $1.2 billion joint venture building Buick for the China market. She was the only Asian American GM vice president and one of the only three female GM vice presidents worldwide.
Young provided financial support during the COVID-19 pandemic to a dozen young Chinese artists under her US-China Cultural Institute when all performances were canceled in the United States and Europe this year.