China-Pakistan project proves real game changer for local women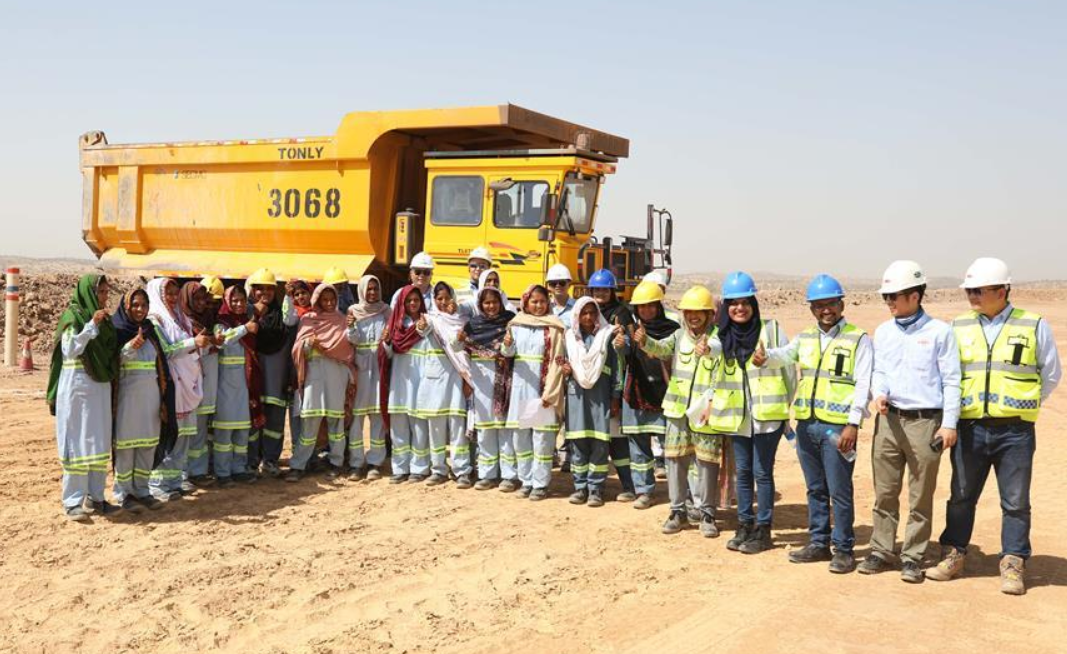 Female truck drivers pose for a group photo with staff members in front of a dump truck in Block II of the Thar coalfield within the framework of the China-Pakistan Economic Corridor in Pakistan's south Sindh Province April 4, 2019. (Photo: Xinhua)
ISLAMABAD, April 25 (Xinhua) -- Wearing a scarf and traditional working attire, Nusrat Bai hauled herself into the cab of a 60-ton dump truck three times her height. Now a seasoned driver after one-year training, she found it a cinch to handle such a giant vehicle.
At the Thar coalfield in southern Pakistan's arid region, the temperature rose to as high as 44 Celsius. Drenched in sweat, however, the tan-skinned, bright-eyed lady appeared rather energetic.
"I can drive it the entire day without getting tired," Nusrat said. "I love this truck now because fortune smiled on me."
A mother of one, she used to tailor women's clothes in the remote desert Tharparkar, where female residents are often underprivileged and less educated, earning merely 1,500 to 2,000 Pakistani rupees (about 10 to 14 US dollars) a month.
As her husband worked at a confectionary shop, the couple's income never went above 6,000 rupees (42 dollars) a month. The meager family income even made fruits and milk a luxury for their child.
However, life today goes another way. Nusrat is on a monthly salary of at least 25,000 rupees (176 dollars), and sometimes it even reaches 30,000 rupees (212 dollars) if there is overtime work.
"I am one of the very few lucky people here who can enjoy the luxuries of fruits, milk and good clothes, because I can afford them with my salary," she said.
WAY TO INDEPENDENCE
Naseer Memon always knows how resilient women from Thar are. "They can be found bringing water from four to five km away on foot in 50-degree Celsius heat, and then doing household chores as well as working in the field," said the general manager of Corporate Social Responsibility at the Sindh Engro Coal Mining Company (SECMC).
Naturally, Memon's company, a major stakeholder of the Thar coal mining project, hired 26 women and trained them to handle a dump truck on their own.
"They are very tough, so we were very confident that they would not let us down while entrusted with this very challenging job," he said, adding that their motto is to empower women from Thar by making them financially independent.
The project provides one-year training for female truck drivers, with a monthly stipend of 16,000 rupees (113 dollars), according to Memon. It could rise to 25,000 rupees (176 dollars) once a trainee is promoted to a skilled driver after passing several tests.
"In a poverty-stricken area like Thar, if a woman can earn between 16,000 to 25,000 rupees, it can be life changing," he said.
Mohini Bai, a mother of four in a small local village, once drifted through life aimlessly, drowning in poverty. On "bad luck days", her family went to bed hungry.
One day she heard of the job advertisement. "I jumped at the opportunity with a dream to feed and educate my kids," she said. "I started working here, and spent the money I earned on my kids."
A few months after Mohini received training for the project, neighbors complained to her husband, saying such "independent" jobs for women is not a part of their culture. He should stop her, they said.
Her husband accepted the new life with alacrity as he could hardly miss the opportunity to provide a good future for his kids. However, faced with the deep-rooted social norms, he still feared to be considered "immoral" for sending his wife to a workplace on her own.
"When my bosses came to know about it, they also hired my husband to support me," said Mohini. "Now both of us are earning good money by working here. Our kids are now studying at a free school built by the project."
"I had a small mud house. Now we are building a beautiful brick house. People who used to mislead my husband now encourage women to learn how to drive these trucks."
In 2016, local authorities, several Pakistani private companies and China Machinery Engineering Corporation (CMEC) jointly started the coal mining project in Block II of the Thar coalfield within the framework of the China-Pakistan Economic Corridor (CPEC), a major pilot project of the China-proposed Belt and Road Initiative (BRI).
After three years of laborious digging in the desert, the coal mine project is now under full operational testing. It provides coal for a power station that has started trial operation and comprises two units generating 330 megawatts of electricity each, said Liu Zhiming, general manager of the coal mining project from the CMEC.
"The project in the future will change Thar into the country's electricity hub since its coal reserves are huge," Liu told Xinhua. "We believe that Thar will change Pakistan because it will be the first power project supplied by Pakistan's own coal."
GAME CHANGER
Job opportunities for women will increase tremendously owing to the forthcoming industrial cooperation under the CPEC, said Pakistan's Minister for Human Rights Shireen Mazari recently. Pakistan's official data show the CPEC has provided over 70,000 direct jobs locally since it was launched in 2013.
When first hired, the female truck drivers were just raw talents. Chinese trainers worked tirelessly to pass on the norms and requirements of the joint venture, and the drivers scored a success, said Liu.
Three to four thousand people from Tharparkar are employed by the project, according to Memon. "They came from an agri-pastoral society, with no modern technical skills. We provided them with training and we brought our engineering training system here."
The Thar region is considered to be one of the most underdeveloped areas in Pakistan and is often hard hit by droughts. Residents there are largely engaged in livestock farming and agriculture.
Hopes have been rekindled for women in the district when Chinese companies brought jobs, said Krishna Kumari, a senator from the Thar Desert area.
She said locals trained by the CPEC projects could take home a handsome amount of money every month. In many households, women today earn more than men, thus reducing their financial dependence and enabling them to pursue their dreams through hard work.
Echoing the senator, Memon said the decent incomes have elevated women's status to a decision maker in their families.
"They have decided to send their kids to school, they decided to wear good clothes, and they decided to improve their lifestyle by working hard. If they can manage to do it, then why can't the women from other parts of the country stand up for their rights and write their own destiny," he said.
A primary school has been established at the Gwadar port in southwestern Pakistan where 498 students including 348 girls are provided with quality education to enable them to reap benefits of the CPEC-related projects in the port city.
Women's rights activists are hopeful that the CPEC will not only be a game changer for Pakistan's economy, but provide bonanzas for educated women as well as female laborers where they could tap into their talents.
"The whole world is looking at the CPEC, and Pakistan calls it a game changer, so it is very important that women, who account for more than half of the country's population but only 22 percent of the work force, should be given an equal opportunity in it," Shaista Bukhari, president of the Women's Rights Association South Punjab, told Xinhua.
Memon views the CPEC as a big break for the country's development, as it has brought valuable investment to Pakistan's power-energy industry, which has been suffering from a dire shortage of electricity.
"As a whole, the entire economic scenario here is transforming," he said. "You can imagine how the CPEC has changed the lives of these women in this far flung desert of Pakistan. Women, who were utterly dependent on men, are now freely driving heavy dump trucks."