Across China: Chinese researcher fights kitchen waste with insect army
(File photo: yogeev.com)
HANGZHOU, April 27 (Xinhua) -- A researcher in eastern China's Zhejiang Province has found a novel way of treating kitchen waste -- using insects to eat it.
On Zhang Zhijian's farm in Yuhang District of Hangzhou, the provincial capital, rows of breeding sinks with little white worms inside stand in a greenhouse. They can eat over 3,400 tonnes of food waste annually, solving the problem of waste disposal for local residents.
"These little worms are larvae of black soldier fly, or Hermetia illucens, the secret to our waste disposal," said Zhang, an associate professor with Zhejiang University.
Researchers say the fly larvae have shown prowess in dealing with organic waste including food leftovers. The larvae are also rich in protein and can be made into medicine and animal feed.
The larvae hatch from eggs in the early spring and grow into pupae in 12 to 14 days, during which their weight can increase over 2,000-fold due to the kitchen waste they have eaten, according to Zhang.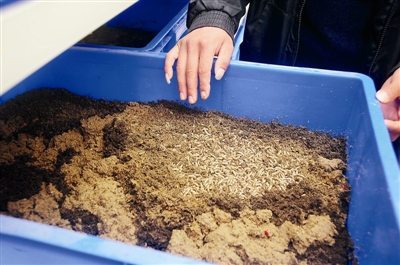 (File photo: yogeev.com)
One kg of larvae can digest 4 kg of food waste. The larvae and their feces can also be turned into organic fertilizer to sell. Last year, the farm earned nearly 1 million yuan (about $148,800) selling the organic fertilizer and dry insects.
It took almost 15 years for Zhang to select insects and develop relevant technologies. He spent four to five hours a day on the farm. He, along with his students, often went to farm produce fairs or rural family inns to collect trash for research.
He set up the insect farm in 2016 under the support of his university and the local government. Now the farm can dispose of the 12 tonnes of kitchen waste that is produced every day by the surrounding 180,000 residents.
Zhang said the black soldier fly adults can only live for about two weeks, and they do not carry microorganism causing diseases.
China's rapidly growing cities have faced a pile-up of household waste, and traditional disposal measures such as landfills and incineration have faced increasing concerns over air and soil pollution.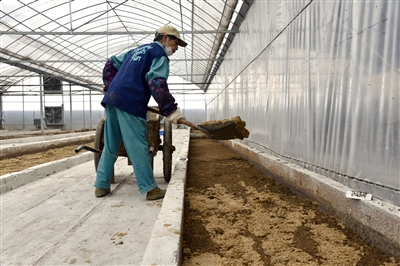 (File photo: yogeev.com)
Zhang is not alone in using insects to fight kitchen waste. An entrepreneur in eastern China's Shandong Province has turned cockroaches, what many consider a pest, into an environmentally-friendly creature to deal with kitchen waste.
"The insect farm has fulfilled the recycling and harmless disposal of waste," said Wu Jianzhong, an official from Yuhang District, adding that the concept of waste sorting can be accepted by people only if they see the effect.
Besides disposing of the food waste, the farm also becomes an educational base for environmental protection, receiving over 300 students from primary schools to colleges every year.
"I hope we could raise young people's awareness on garbage sorting and environmental protection," Zhang said.