Of mice and men: life of Nanjing's pest control workers
People's Daily app
1528156048000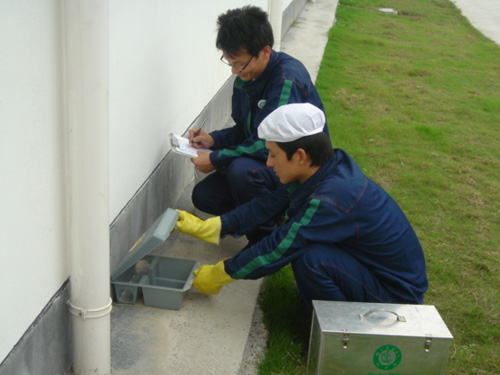 Photo: China News Service
In air vents or in attics, the war between mice and men has been underway for decades in the Chinese city of Nanjing known for its rich variety of traditional snacks, China News Service (CNS) reported.
According to CNS report, one night, a man surnamed Tang was falling sleep in his new home before mysterious scratching noises woke him up and left him tossing and turning on his night throughout the night. Later that morning, he opened a vent and discovered traces of evidence that reassured the suspect's identity.
After searching online, he purchased a variety of mousetraps and placed them at the supposed crime scene, hoping the devices would provide him with the peace and serenity he deserved. As night fell, the party varmints returned.
Frustrated and angry, Tang contacted a local pest control business and spoke with Jin Yunfeng and members of his rodent-fighting team.
After closer inspection, Jin knew exactly what kind of rodent he was dealing with and how it wasn't afraid of attacking humans.
Jin grabbed a few steel balls from his tool bag and used them to block the cracks and openings in the vent. He explained that although mice are known for their digging skills, they will retreat once their pointy noses rub against the rough surface of the metal balls.
Tang was skeptical at first, but his feelings changed after he realized the noises he once heard were gone. Jin's rodent-fighting method comes with years of a proven track record.
Jin began his career as a sailor, attracted to the sense of mystery that growing up by the sea provided. After he decided to pursue something more stable, he picked up books and started learning about different types of pests. After a decade on the job, he highest level national certificate in exterminating pests.
June 6 is the World Pest Awareness Day. "Many people think a job having to deal with mice, cockroaches and flies is dirty," Jin said. "I think modern methods of pest control are sanitary. People such as myself provide a service that helps create a clean environment for our community."
Although the job can be mentally and physically demanding, and sometimes requires him to work 3 or 4 in the morning, the sense of mission and satisfaction it provides is enough to keep Jin going.