US farmers and consumers being poorly represented: FM
People's Daily app
1557933496000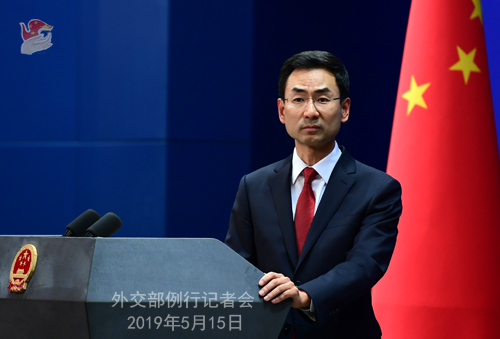 Geng Shuang, spokesperson of the Foreign Ministry of China, at a regular media briefing on Wednesday. (Photo: Foreign Ministry of China)
The Foreign Ministry of China said Wednesday the US is distorting facts about how tariffs impact the public.
"US farmers and ordinary consumers are innocent. They are being poorly represented," Geng Shuang, the spokesperson of Foreign Ministry of China, said at a regular media briefing in response to the latest tweets from US President Donald Trump.
Trump, in a series of tweets, claimed that "great patriot farmers" in the US would be one of the biggest beneficiaries of the tariffs imposed on China. In addition, he said that US consumers have no reason to pay for tariffs on China.
Geng said, "Not long ago, several US grower associations, for soybeans, corn and wheat, issued a joint statement, clearly opposing US moves to increase tariffs on China. The head of the US National Corn Growers Association said that American agriculture needs certainty rather than tariffs."
"US farmers have been patiently waiting for the outcome of Sino-US economic and trade consultations, but this patience is dying. The National Farmers Union of the United States pointed out that American farmers are responding to problems such as weak agricultural prices and natural disasters, and it is difficult to accept China's retaliatory tariffs. Some organizations said that what the farmers need is contracts rather than government subsidies," he stated.
Geng told the media that China has been a major buyer of US agricultural products in the past few years. He gave soybeans as an example. In 2017, about 60 percent of soybeans in the United States were sold to China, and China is the largest export destination for US soybeans. However, since the trade dispute between the two sides, US soybean exports to China have fallen sharply. As the head of the American Soybean Association said recently, the soybean market in China took more than 40 years to build, and as this confrontation continues, it will become increasingly difficult to recover.
"The US claims that domestic consumers will not pay for tariffs on China, which is contrary to common sense. If consumers ultimately do not pay, who will pay? According to a study published by American economists, increasing tariffs caused US consumers and importers to lose $4.4 billion per month last year. The relevant US industry organizations have issued many statements in recent days, saying that it is a wrong practice for the United States to impose tariffs on China. If it continues, it will increase the average annual expenditure of American families by $2,300. There is also a direct indication from the US media that American consumers are the cannon fodder of the trade war," he said.
Geng added, "Just as I said yesterday, we advise the US to heed the call of the international community and people from various sectors, carefully weigh its gains and losses, get a grip on the situation and get back on the right track as soon as possible. We advise the US to make concerted efforts with China for an agreement beneficial to both sides on the basis of mutual respect."