Yunnan lifts ethnic minorities out of poverty with organic beverage businesses
Global Times
1528403869000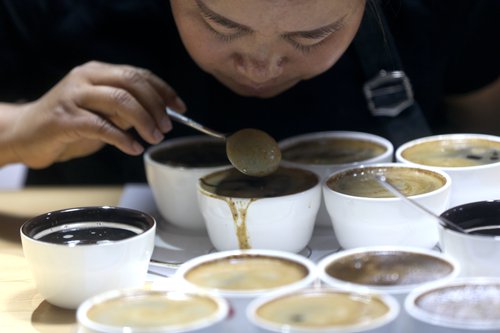 Ye Ping, a coffee grower, tastes different coffee as part of an exam to become a certified coffee quality grader in Pu'er, Southwest China's Yunnan Province, on Thursday. (Photo: Global Times)
On a sunny Friday morning in Pu'er city, Southwest China's Yunnan Province, one of China's poorest provinces, Ye Ping runs from one room to another at the Yunnan Coffee Exchange taking different exams in order to become a certified coffee quality grader.
Ye, a coffee grower from Yunnan's remote county of Menglian, has been taking part in a training program organized by the Yunnan Coffee Exchange and the US-based Coffee Quality Institute. Menglian is home to several ethnic minorities such as the Dai, Lahu and Wa groups.
If she passes the exams, Ye, a middle-aged woman of the Wa ethnic group, will become a certified Q Arabica Grader, meaning she could judge the quality of coffee as a profession.
But Ye has a different and much more ambitious plan.
"I came here to learn so I could go back home and improve the quality of our coffee beans," she told the Global Times.
Ye created a farmer cooperative in 2017 with 156 families, 130 of which are living below the country's poverty line.
Such agricultural cooperatives are a popular way for farmers in rural China to come together to increase scale and save costs.
Relief efforts go green
Pu'er, already well-known in China for its namesake tea, has become a major coffee bean supplier for both the Chinese and overseas markets, including the US, Germany and France.
With a total of 789,000 mu (526 million square meters) of coffee plantations and an annual production rate of 60,000 tons as of the end of 2017, Pu'er has become the largest producer of coffee beans in China and is now known as "China's coffee capital," said Liu Haifeng, a manager at the Yunnan Coffee Exchange.
While a few counties in Pu'er were reaping the economic and social benefits of producing tea and coffee some years ago, others like Menglian were still facing destitution, but now it seems that beverage businesses are the way out for them, too.
With about 267,200 of its residents still living below the national poverty line - most of whom are from ethnic minority groups residing on the border with Myanmar, according to official data - Pu'er is a major battlefield in China's nationwide fight to eradicate extreme poverty by 2020.
Taking advantage of the city's favorable farming conditions for coffee, tea and other economic plants, Pu'er has adopted a strategy called "industry poverty relief," under which there has been considerable support, funding and policies.
In 2017, the city invested a total of 770 million yuan ($120.18 million) in those industries, offering incentives for companies that support poverty relief efforts, farmer cooperatives and local families, according to data from the Office for Poverty Alleviation and Development in Pu'er city.
With the government's help, many residents in Pu'er's Simao district have been lifted out of poverty.
For example, in Simao district's Dakaihe village, just outside of downtown Pu'er, as many as 29 families have been lifted out of poverty since 2015 thanks to coffee businesses, according to Hua Honglin, founder of Pu'er Linrun Trading Co, which works with a coffee-farming cooperative.
After it began growing coffee in 1995, the village developed into a little wealthy town, with paved roads, two-story houses and even new cars seen almost everywhere in larger cities.
"The coffee industry really drove rapid economic growth and poverty alleviation in Dakaihe," Hua told the Global Times on a hot Thursday afternoon, sipping fresh tea out of a glass at his house on top of a hill surrounded by coffee plantations.
Although coffee is a dominant business in Dakaihe, many villagers still prefer drinking tea.
The tea way
Tea is another industry that is putting Pu'er on the global map. The city's tea products have been sold not just in China, but also across the world, including in Europe and the US.
Not far from Dakaihe is Zhengwan, another village that has seen strong economic growth thanks to Pu'er's famous namesake tea.
At noon on Thursday, several workers at the factory of Pu'er Zuxiang Highmountain Tea Garden Co rush to finish up producing a batch of Pu'er tea for a special order.
The company produces Pu'er tea and other products for both domestic and global brands, according to Dong Zuxiang, founder of Highmountain Tea Garden, who was keen to share the company's plans to help thousands of families living in poverty across Pu'er.
"Now, the government has asked us to participate in the poverty relief efforts, not just in Simao district, but [in other areas] as well," Dong told the Global Times on Thursday, adding that since 2017, his company has been working with six farmer cooperatives that help over 8,000 people, one-third of whom are living in poverty.
After more than a decade in the business, Dong now has plans to shift to organic tea, which he said could bring better, more stable incomes for local families.
Organic brands
"This is a path we must take," Dong said, referring to his plan of consolidating local resources to establish an organic, green brand that could compete with foreign ones. "Our experience is that [the tea industry] is isolated, messy and weak… and that's why it can't grow on a large scale."
Dong said that his company's organic products have gained certification in several countries, including EU countries, the US and Japan. And the next step is to introduce the brand to even more countries and regions.
Hua also said that his company is transitioning toward producing higher-end coffee, which could be sold at a better price, thus helping him reach a higher profit margin. "We are thinking of ways to gradually expand our organic coffee across our more than 10,000-mu plantation," he said.
For coffee growers in Pu'er, improving quality and going organic is the only way out after prices of normal coffee beans plunged over recent years, according to officials and farmers.
Liu with the Yunnan Coffee Exchange said that coffee prices are largely linked to the New York commodities exchange, adding that foreign buyers such as Starbucks and Nestle are "pressuring down prices."
To ensure stable prices and incomes for farmers, particularly those below the poverty line, the Pu'er government has been offering massive support, including organizing training programs and providing organic fertilizers, to help build an organic Pu'er brand for both coffee and tea businesses as part of the city's poverty alleviation efforts, officials and farmers said.